A few other Awards, Records, and Trips of
various Columbia cars over the years . . .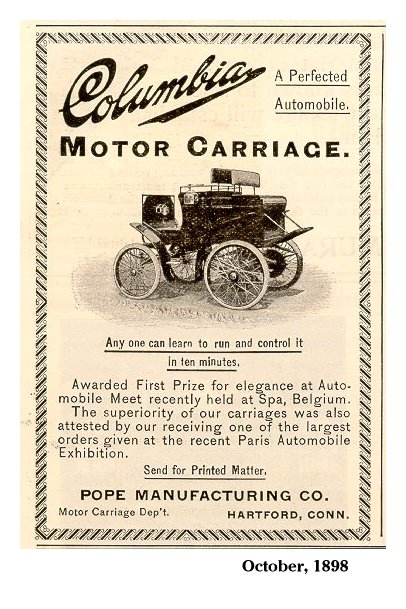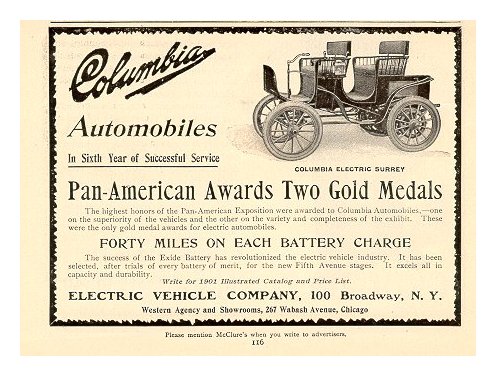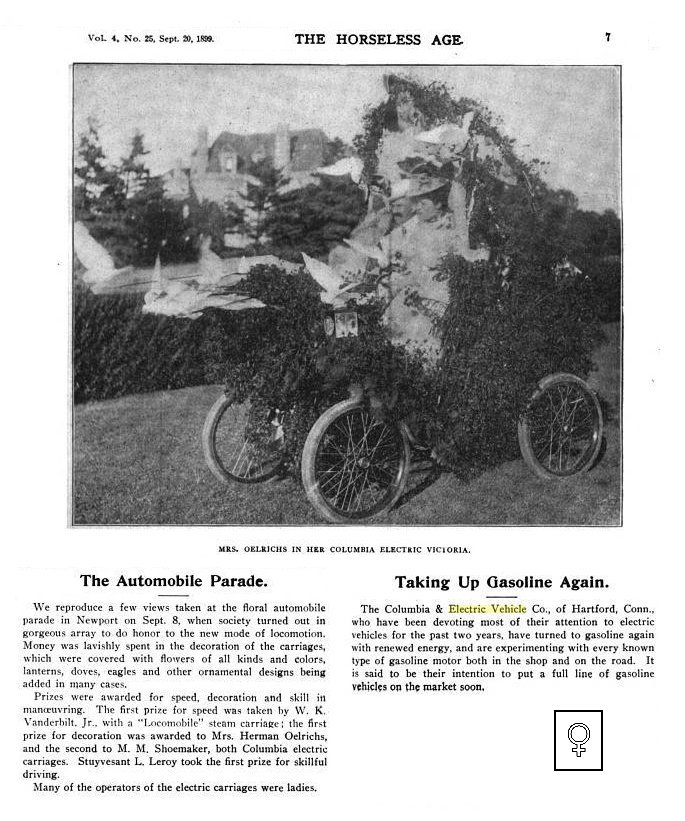 The item above about the Newport (RI) Automobile Parade in 1899
was significant enough for the Humble Oil and Refining Company
to include it in a 1960s wall calendar, as one of their
"Great Moments in Early American Motoring."
Notice that in the photograph above,
Mrs.
Oelrichs is driving,
whereas in the drawing below, (her husband?) has assumed that task.
One small side-step for man; one giant leap backward for womankind...
which would start to be rectified in the 1970s!
All the more reason for my note (above this item) about the many
early women motorists in general, and their regular inclusion in
materials put out by the various Columbia Automobile Companies!
Another floral-bedecked Columbia is shown later on this webpage,
and it is noted that the owner is a woman. She very well may
be driving it, but that cannot be ascertained from the photo.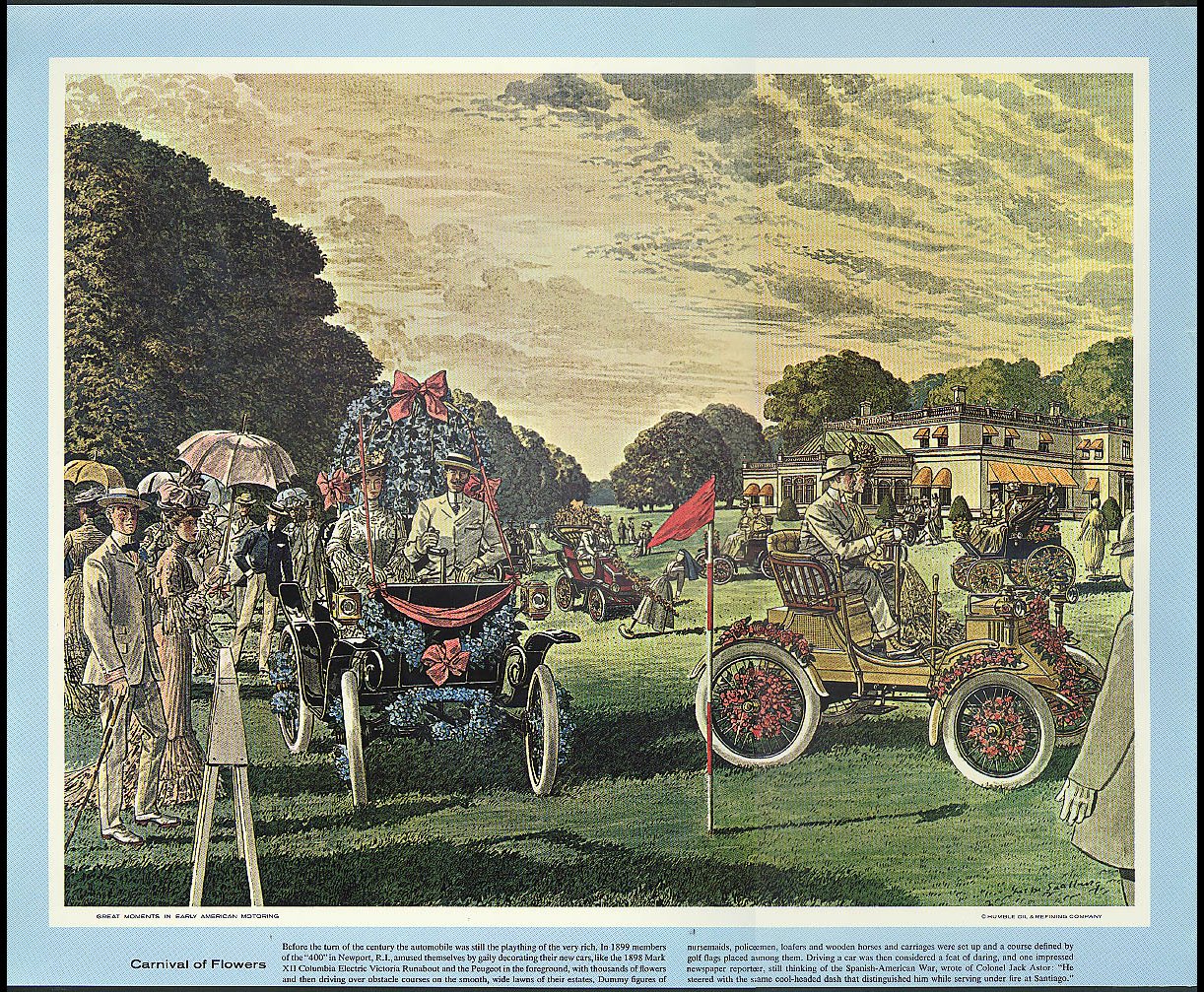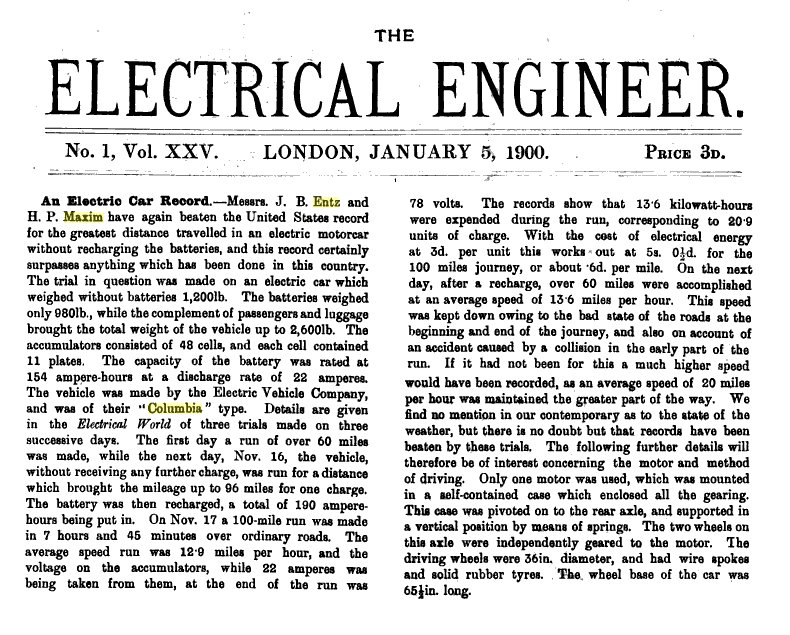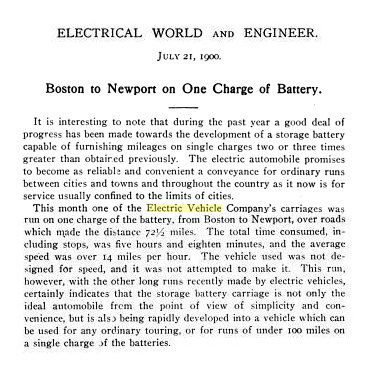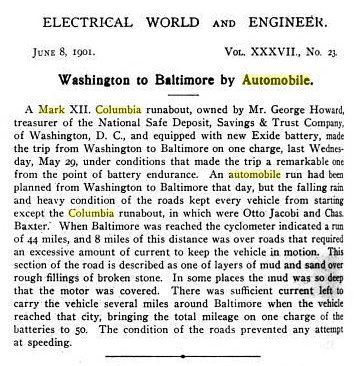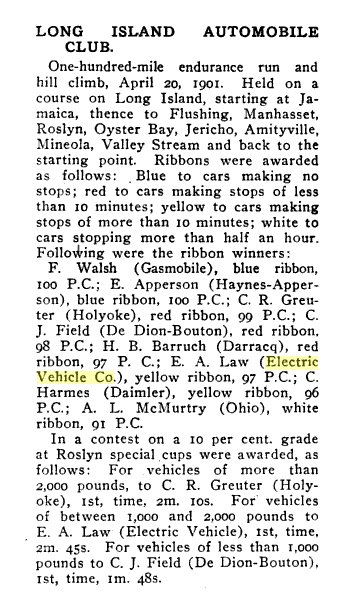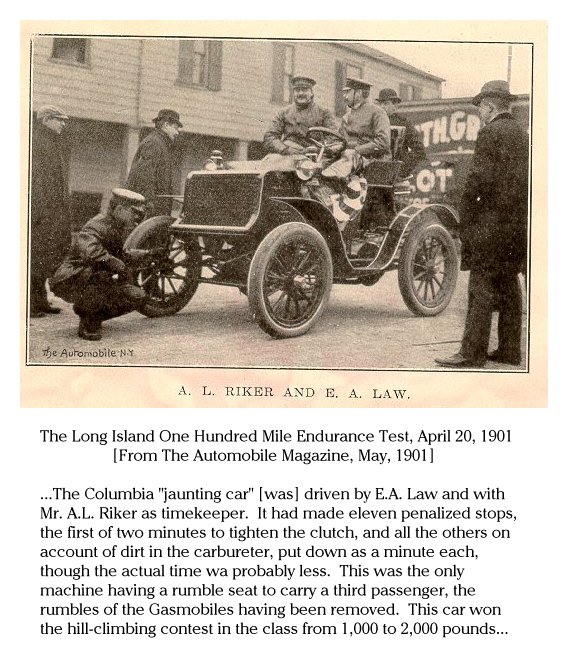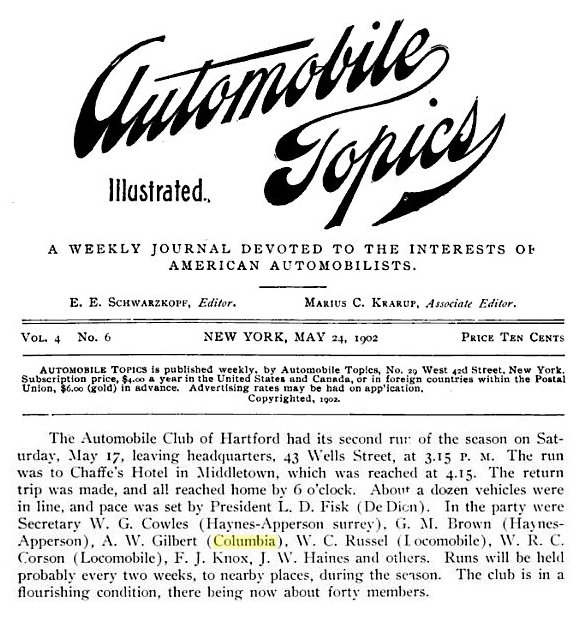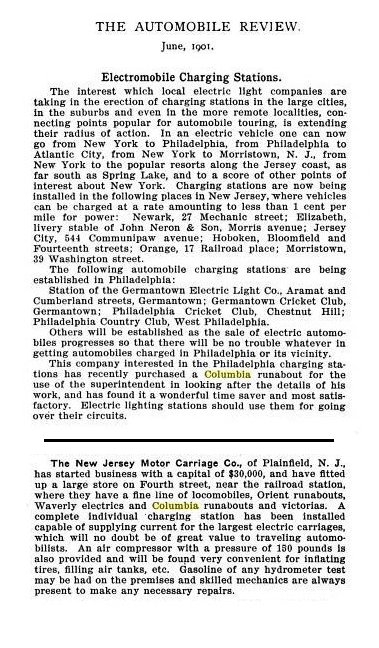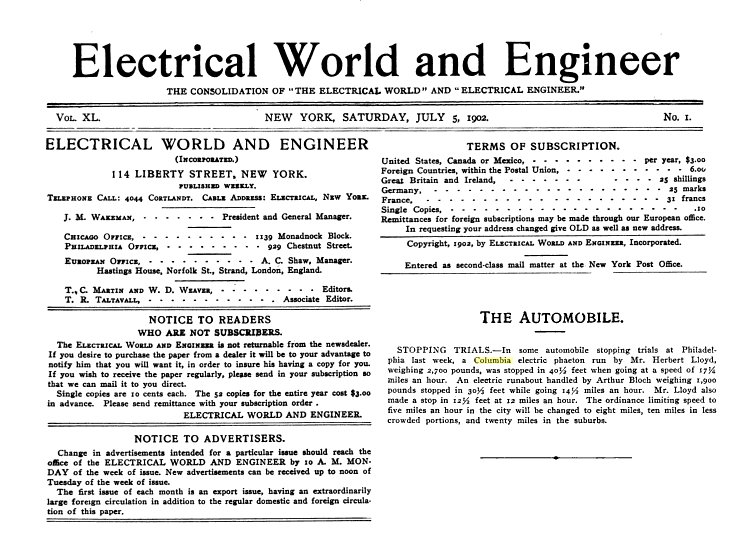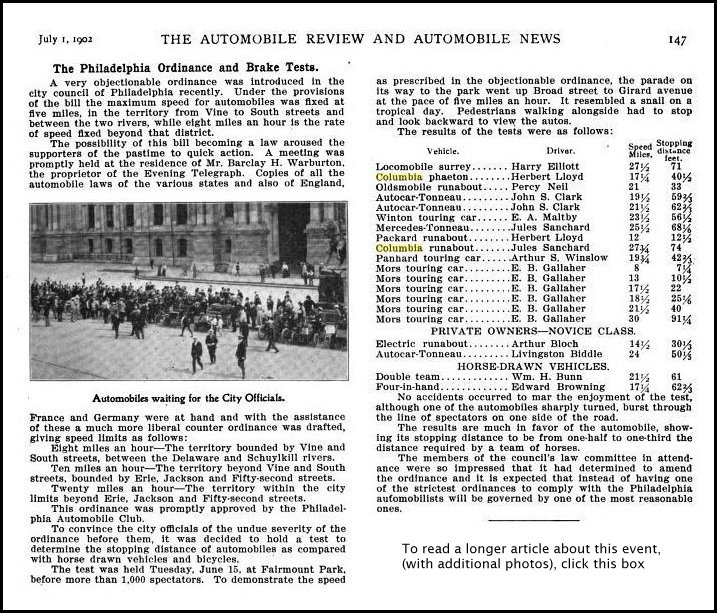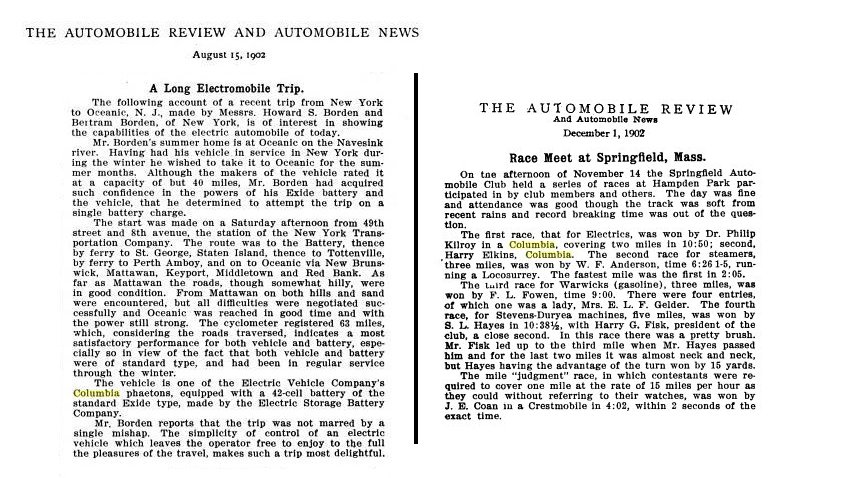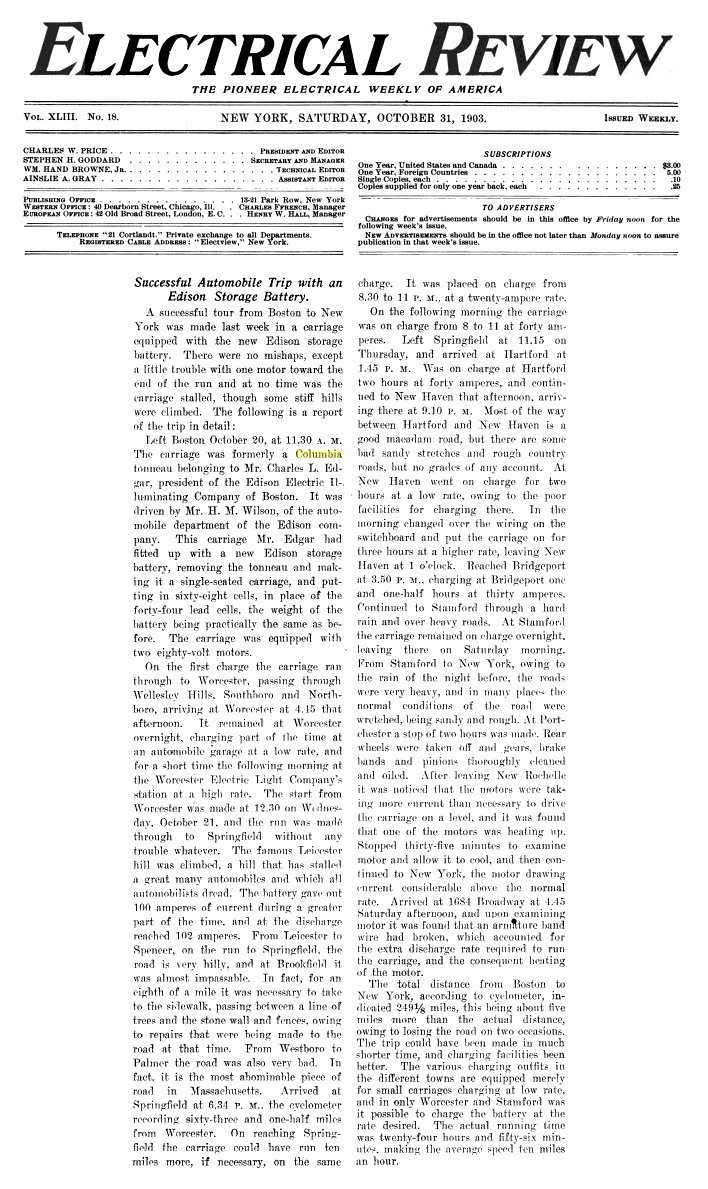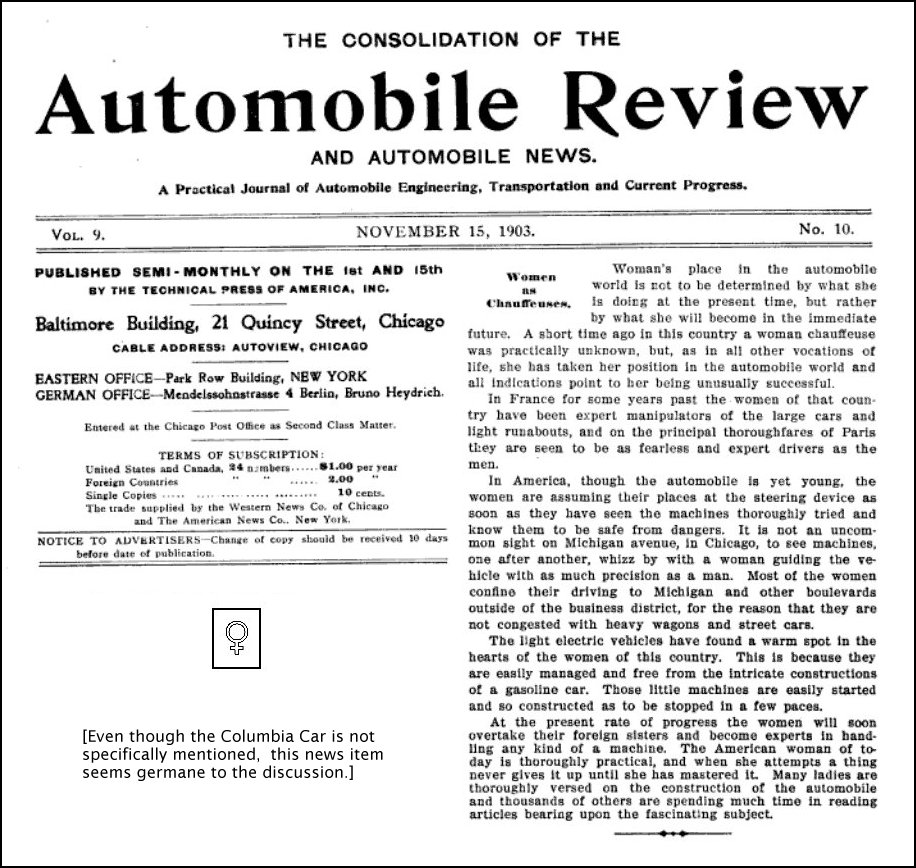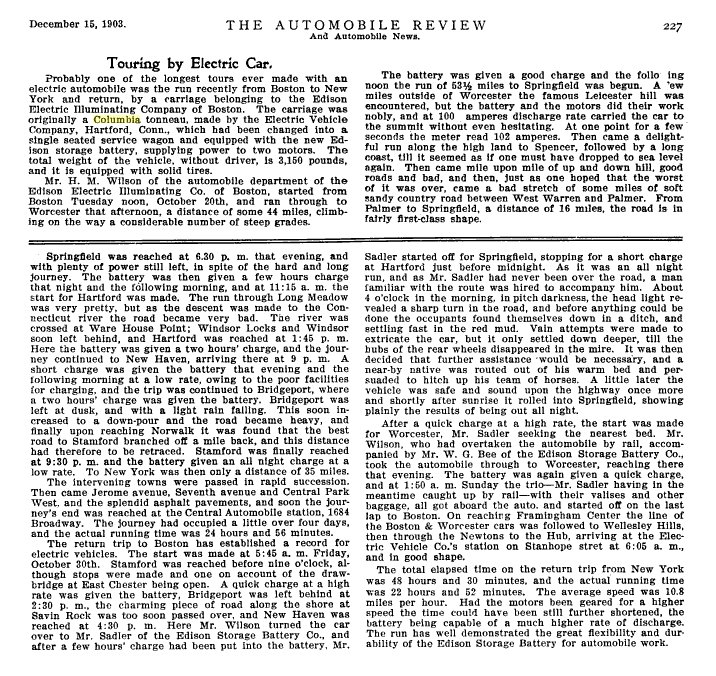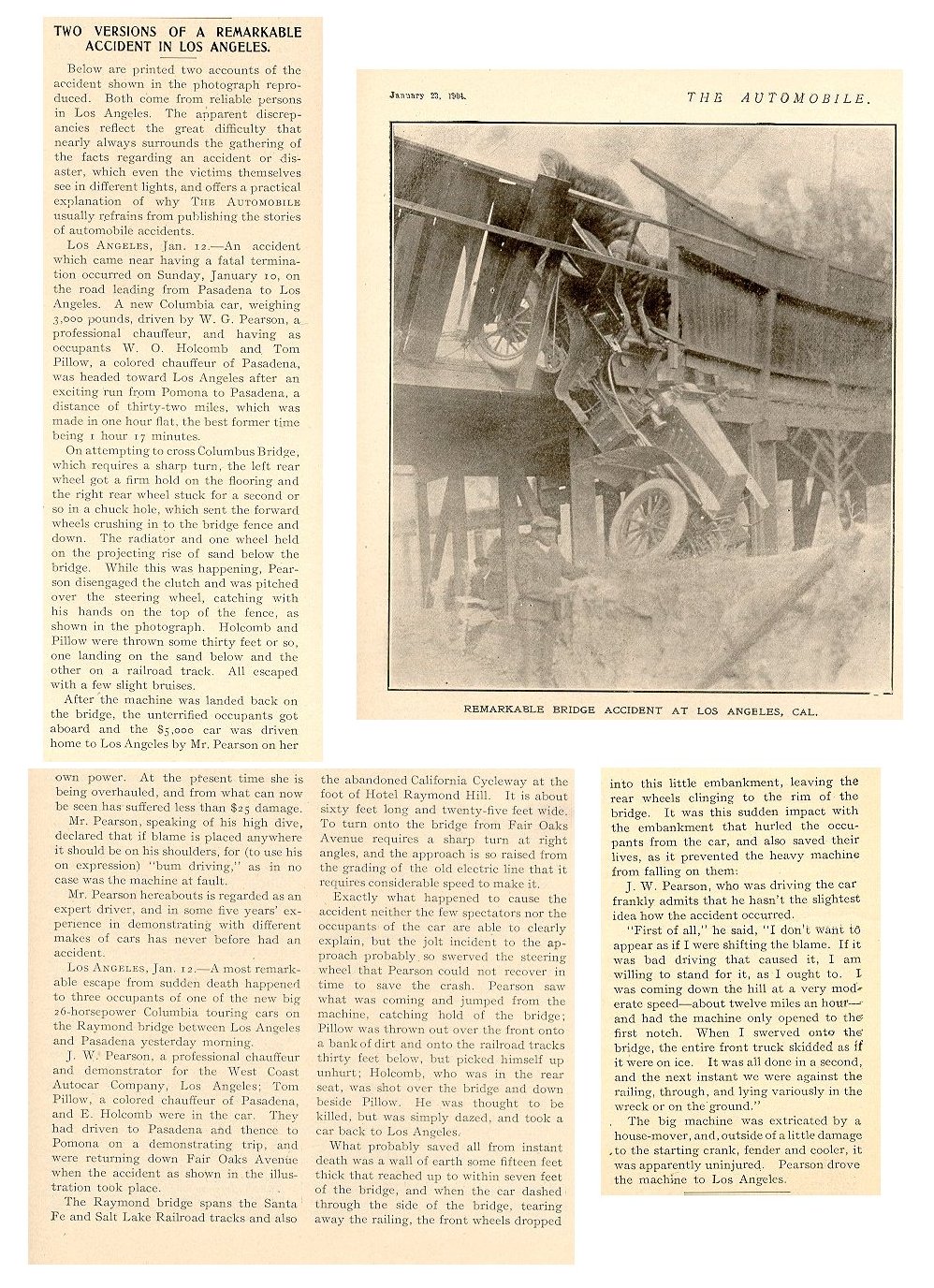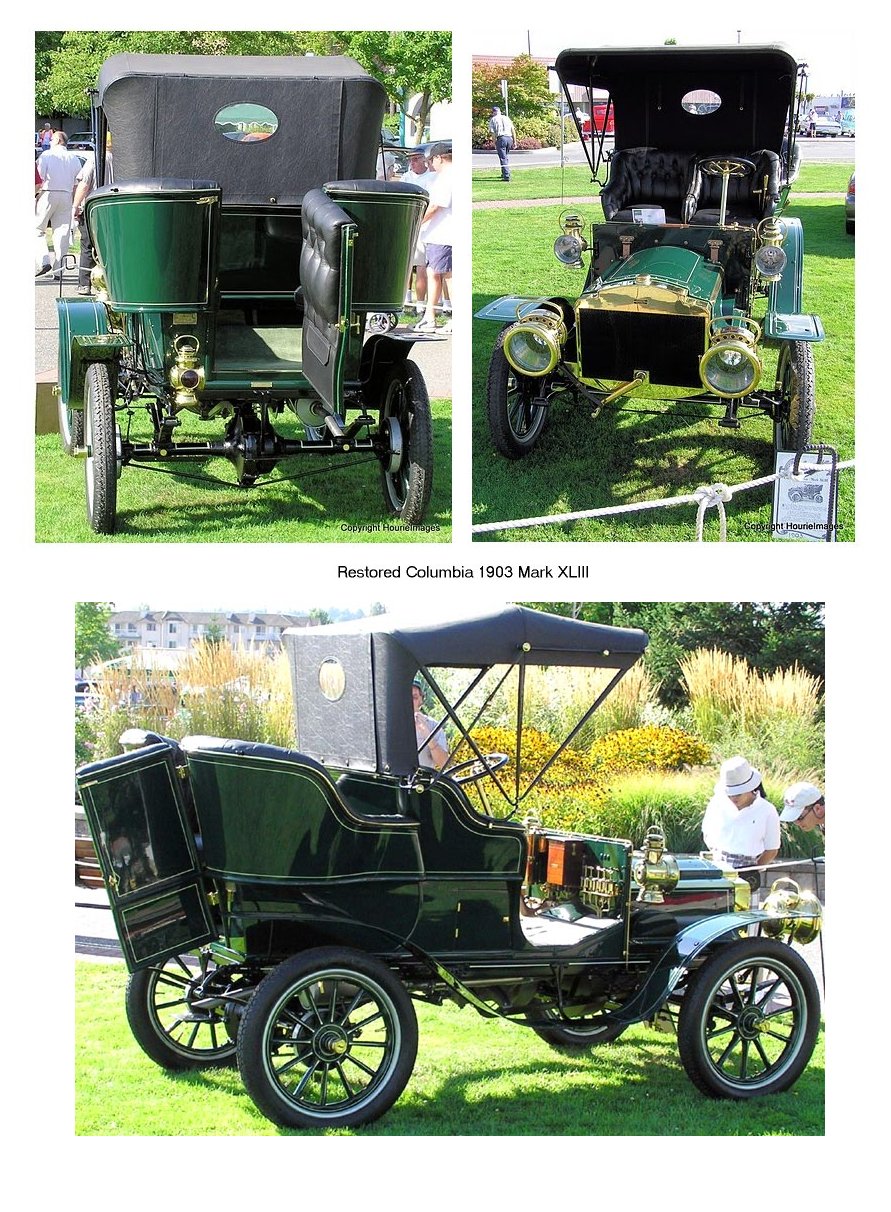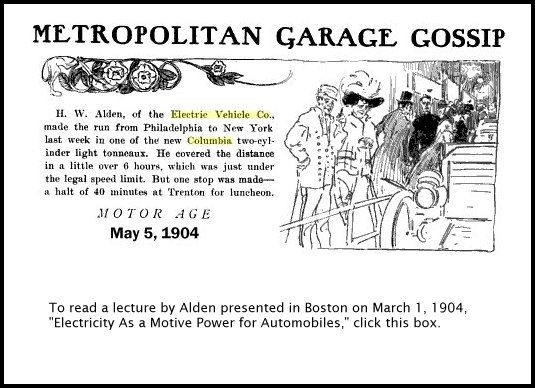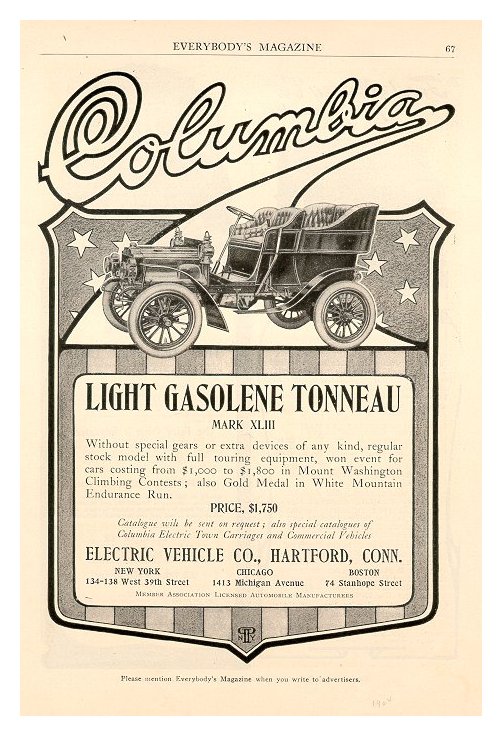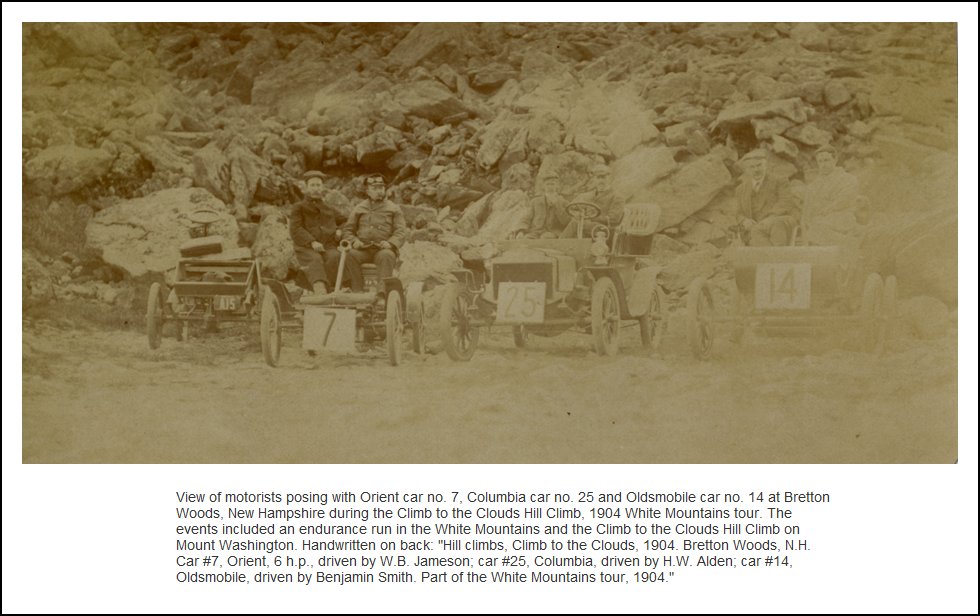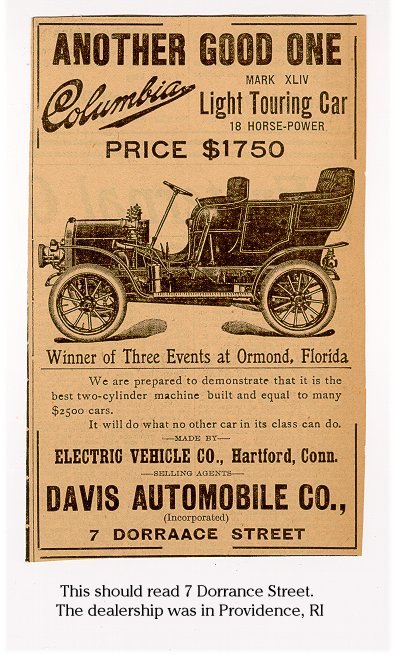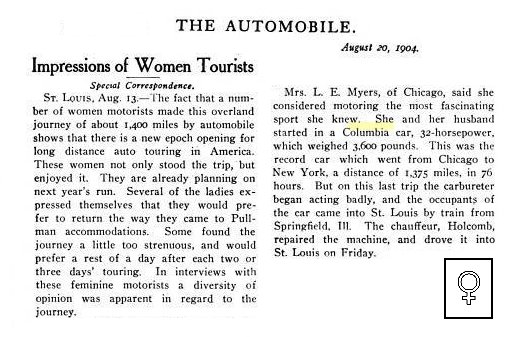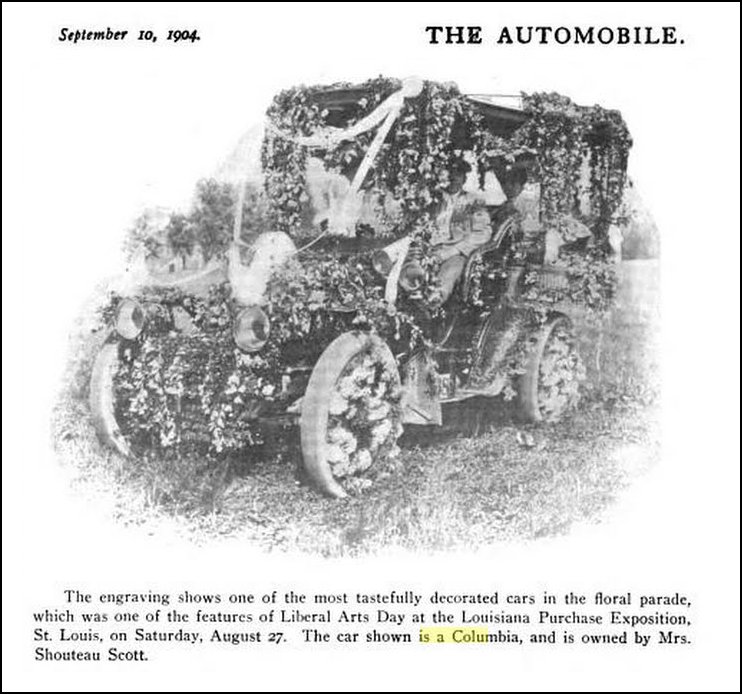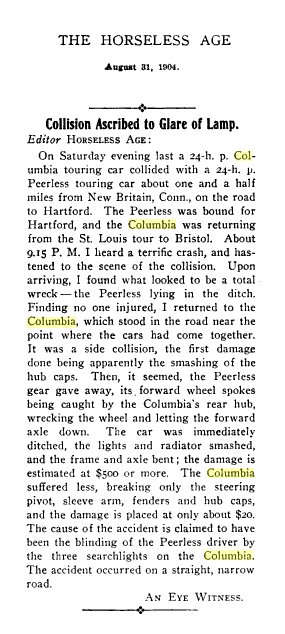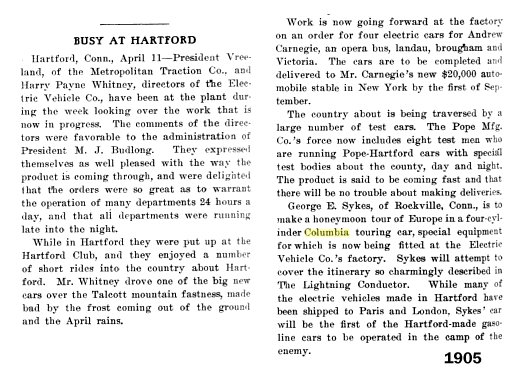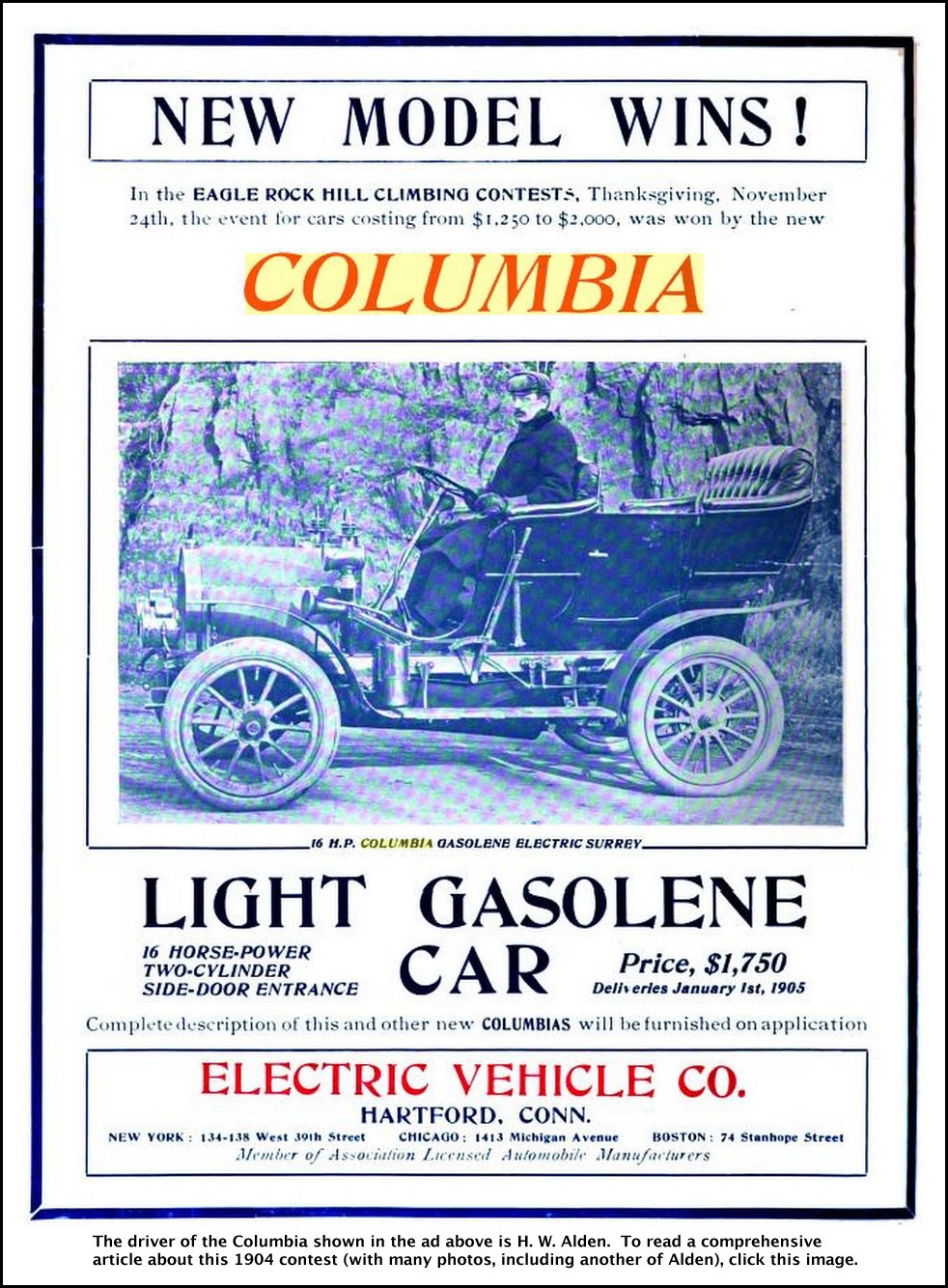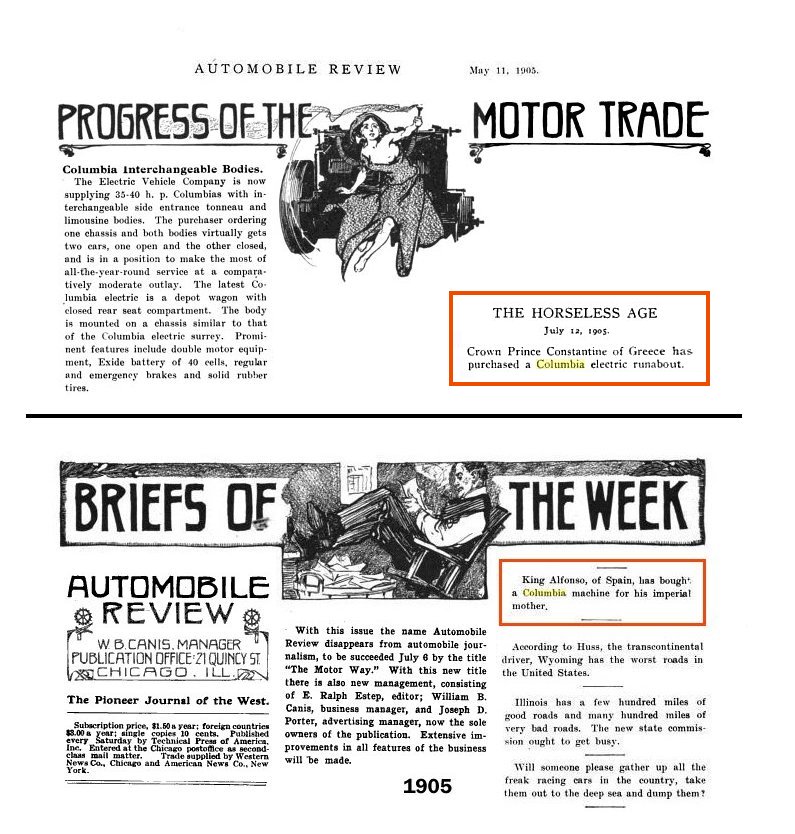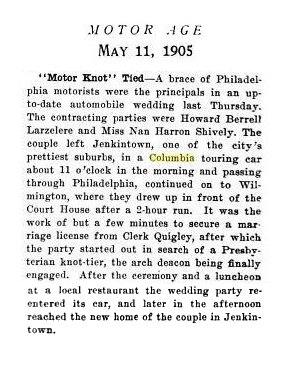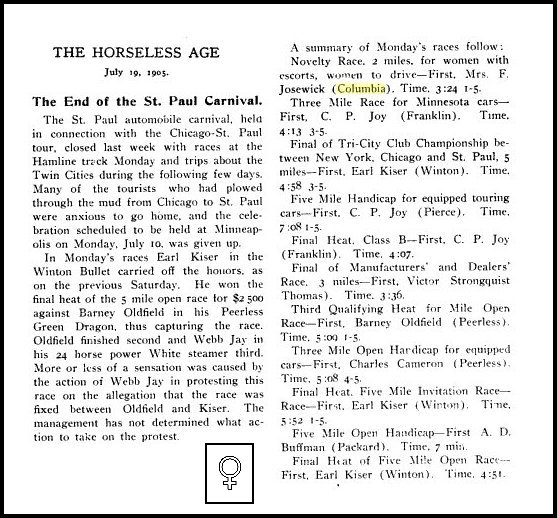 * * * * * * * * *
As noted on an earlier page, here are more photos of Eddie Bald,
plus some items about his transition from cycling to auto racing.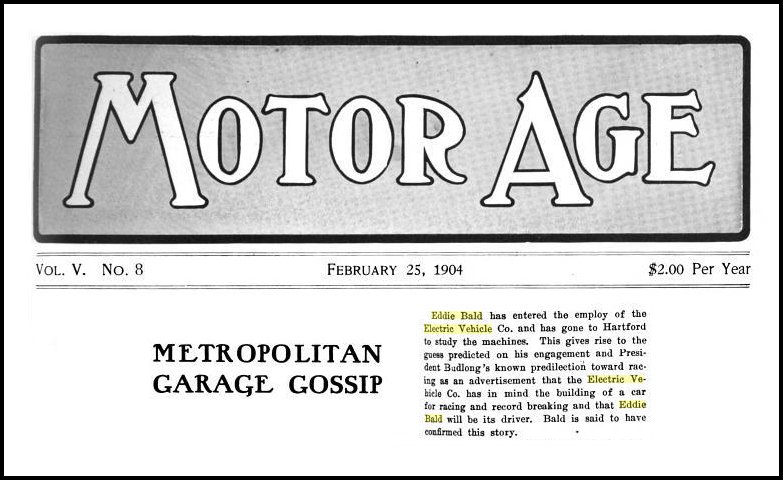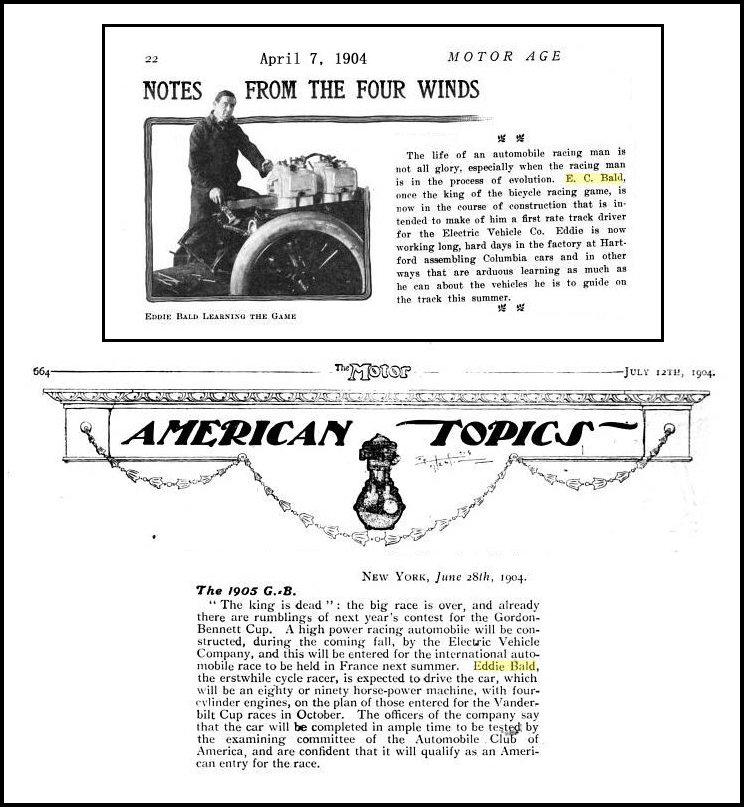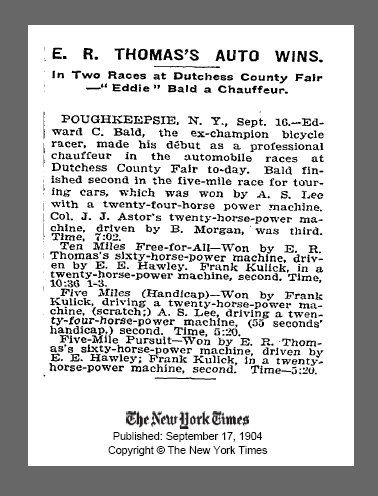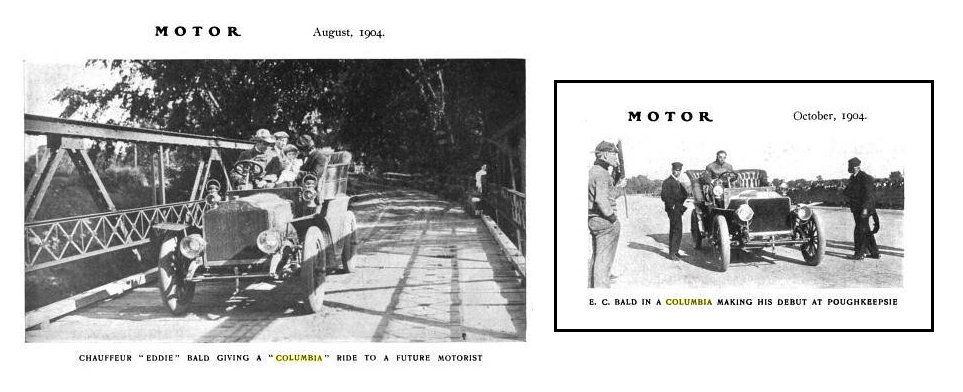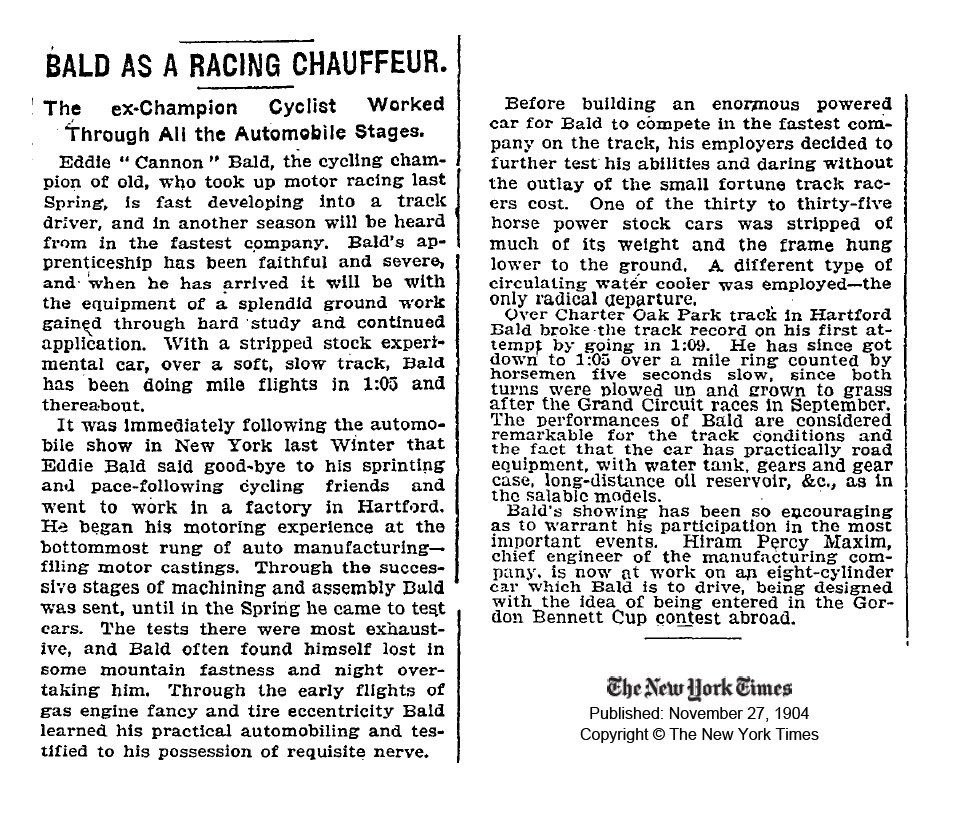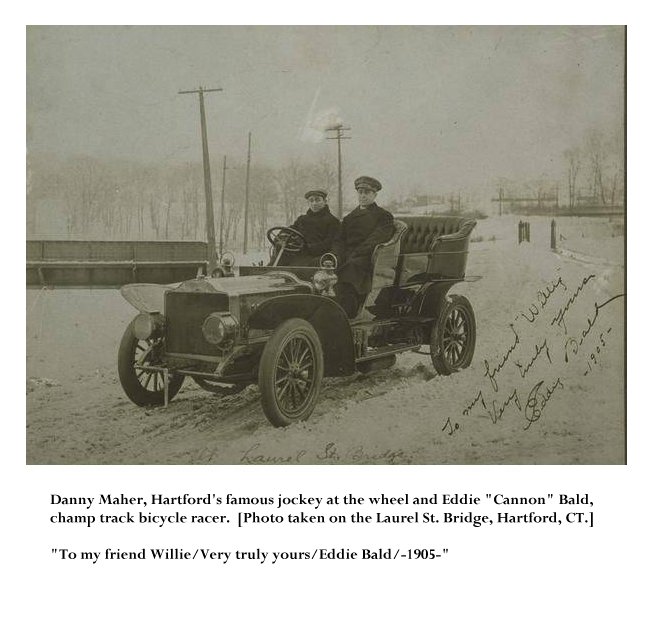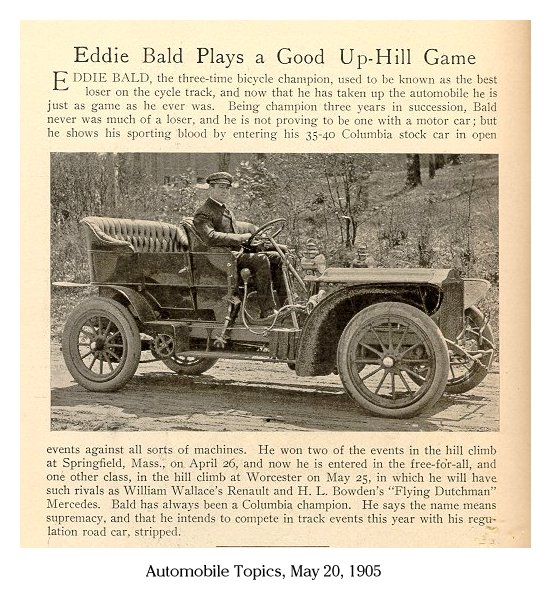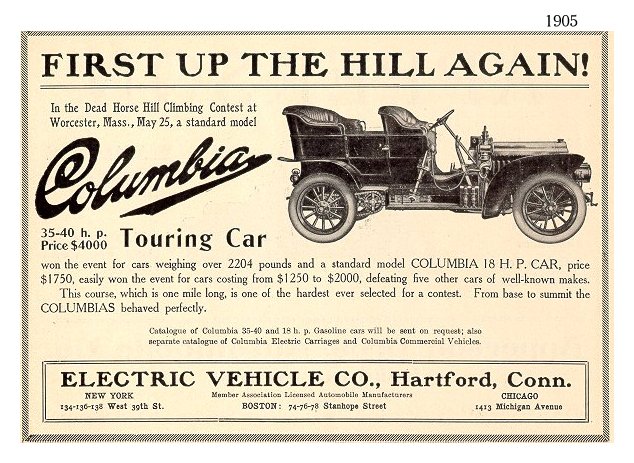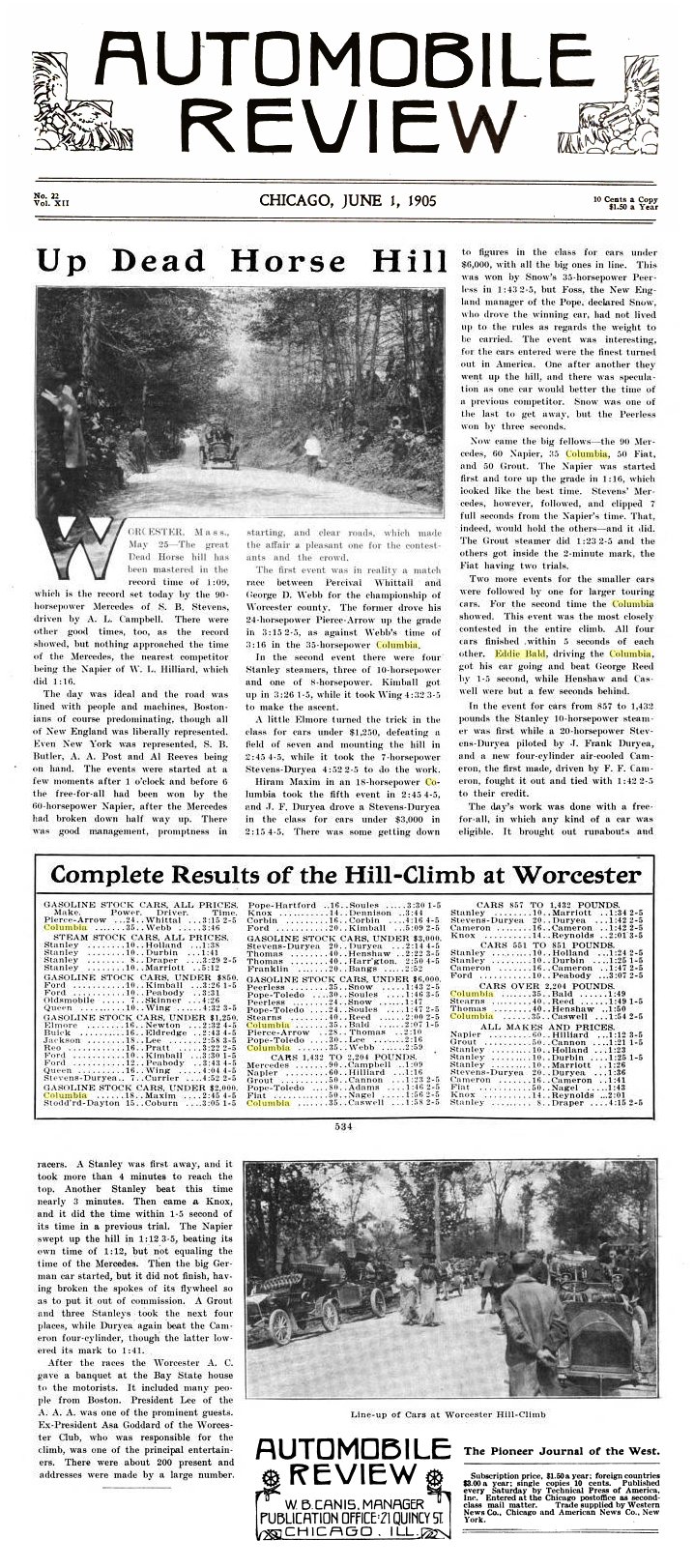 To read detailed accounts of other races in which
Eddie Bald took part, and to see a couple of
photos of him on his bicycle, click
HERE
.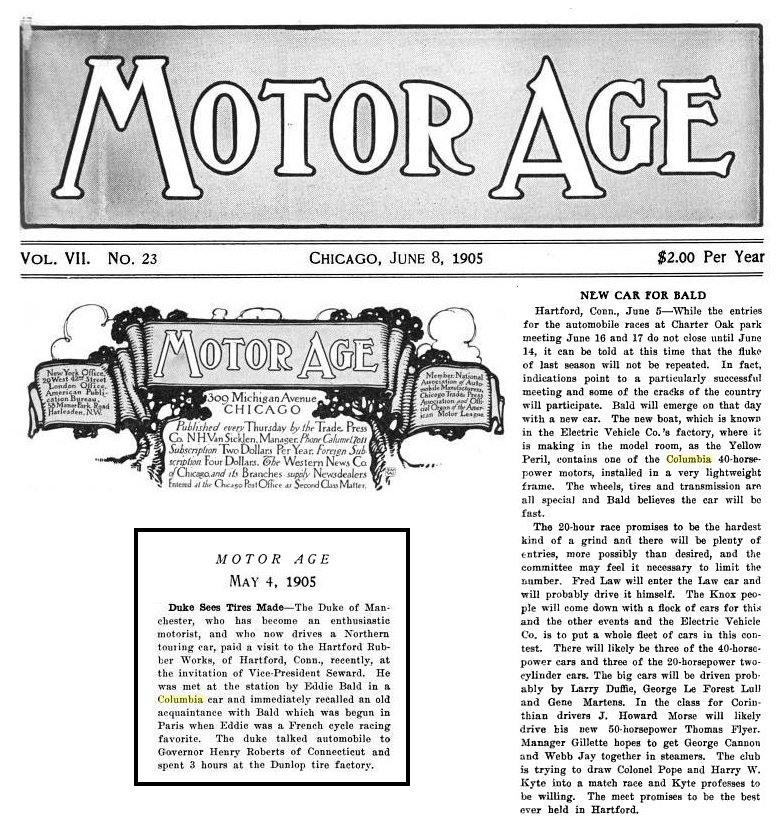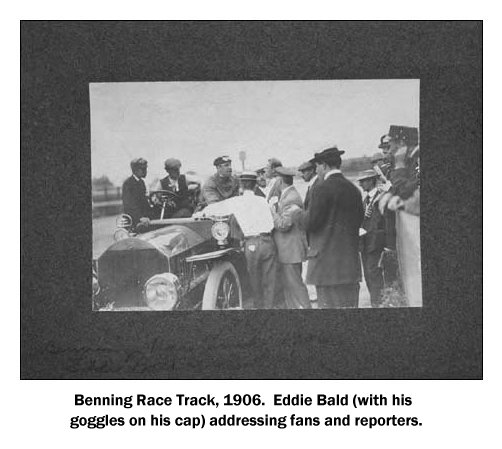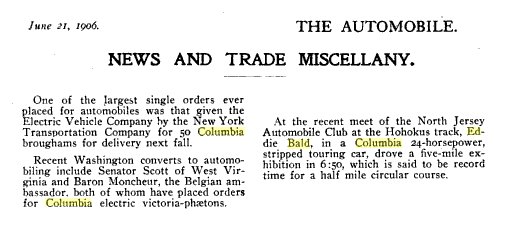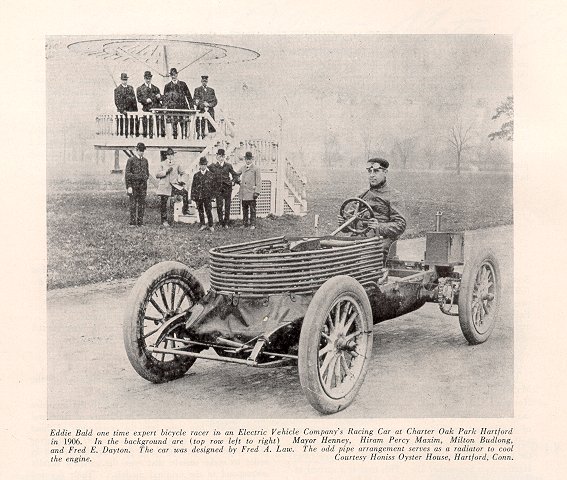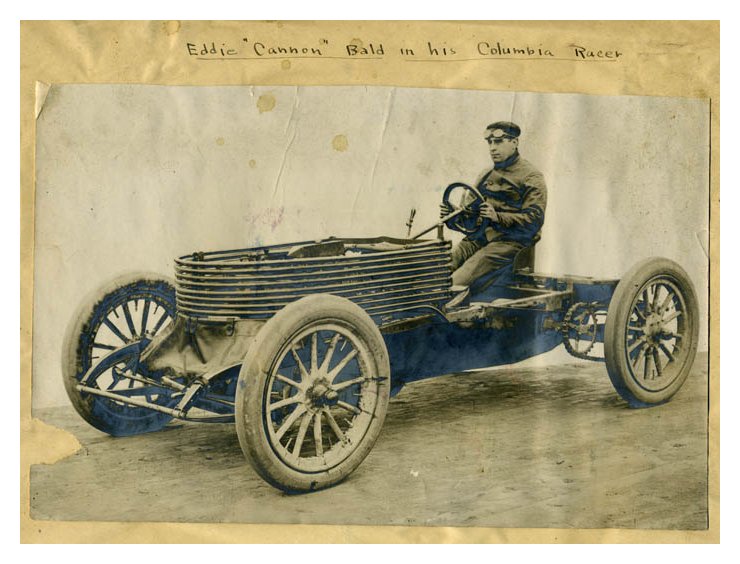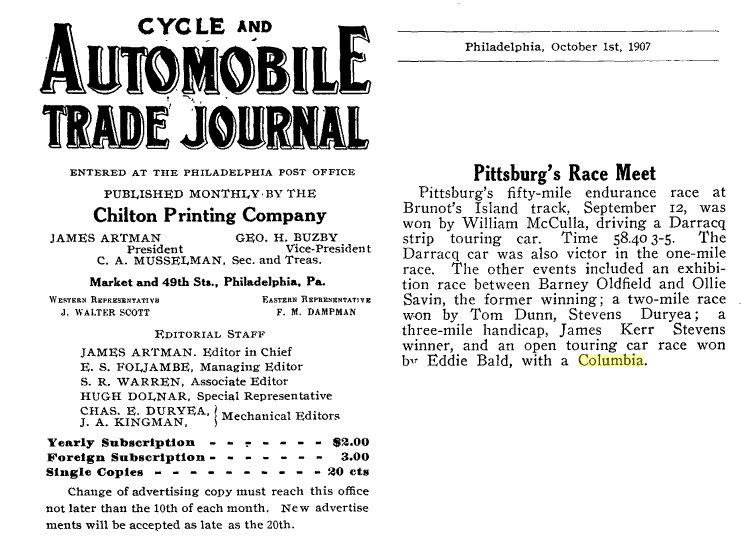 This brief item appeared in

Horseless Age

magazine dated December 29, 1909...




Eddie Bald Rejoins Columbia


Eddie "Cannon" Bald is back to his first love, behind the wheel of a Columbia motor car again. The Columbia was Eddie's first motor love, just as the Columbia bicycle was Eddie's mount in the days when he was the international cycling champion. When Bald first became associated with motoring he sat in racers built for him in the Columbia factory at Hartford, Conn., following an apprenticeship in the Columbia factory. Bald's track generalship won him many events, and he also drove in one of the record breaking Columbia dashes from Chicago to New York. [

Note: This was the re-taking of the record in October, 1904. Photos of Bald with Lawrence Duffie appear on an earlier webpage of this presnetation.

] Bald is now associated with the agency for Columbia cars in Pittsburg, which city is now his home.
* * * * * * * * *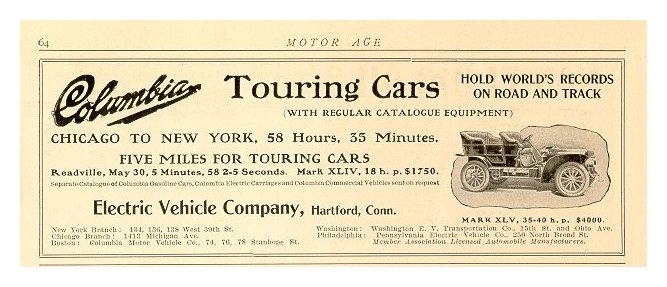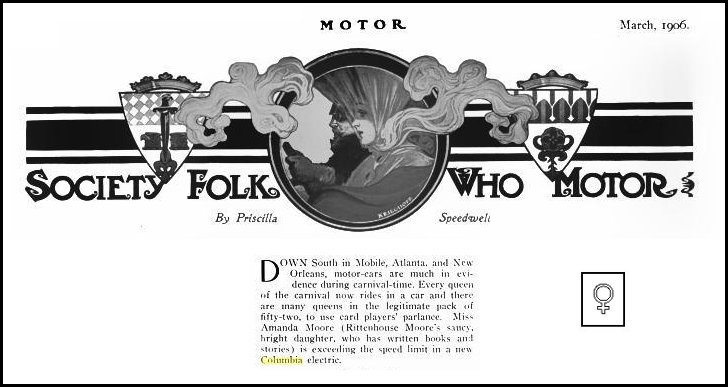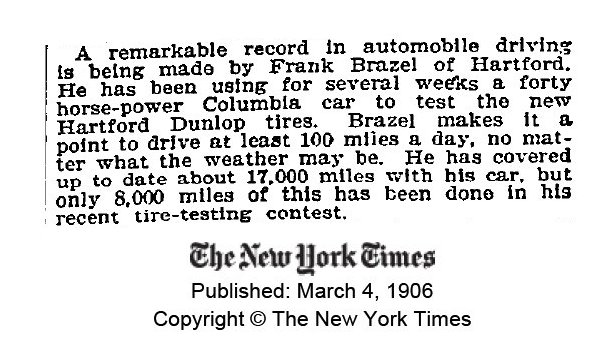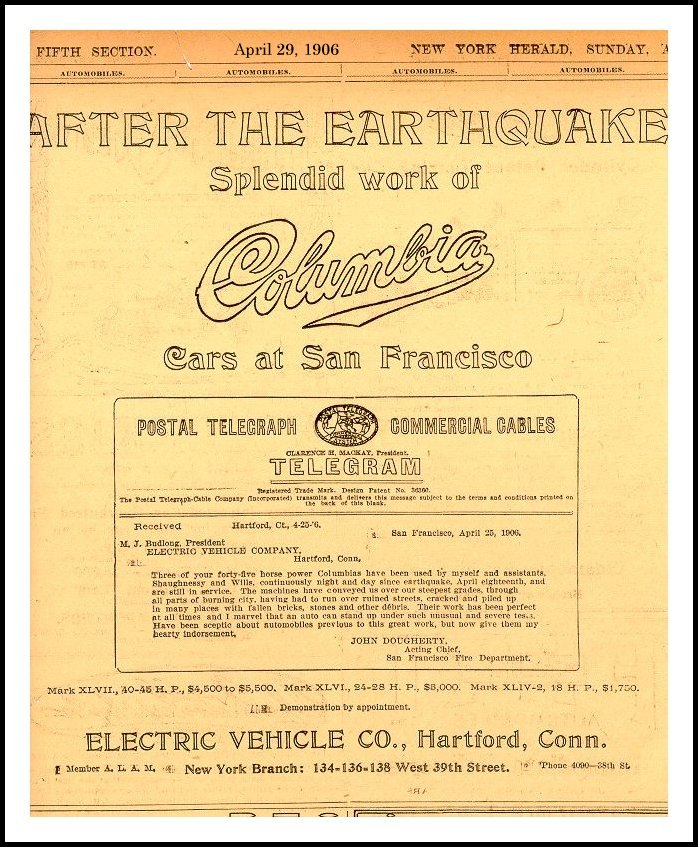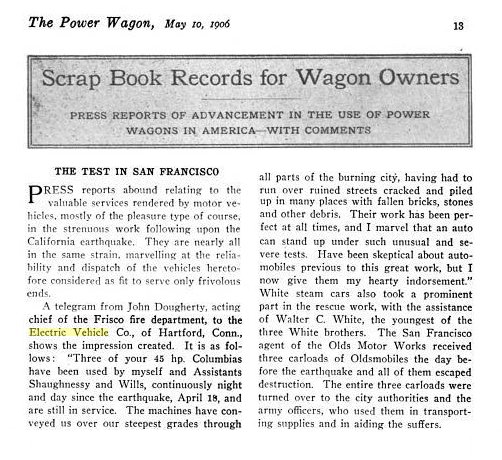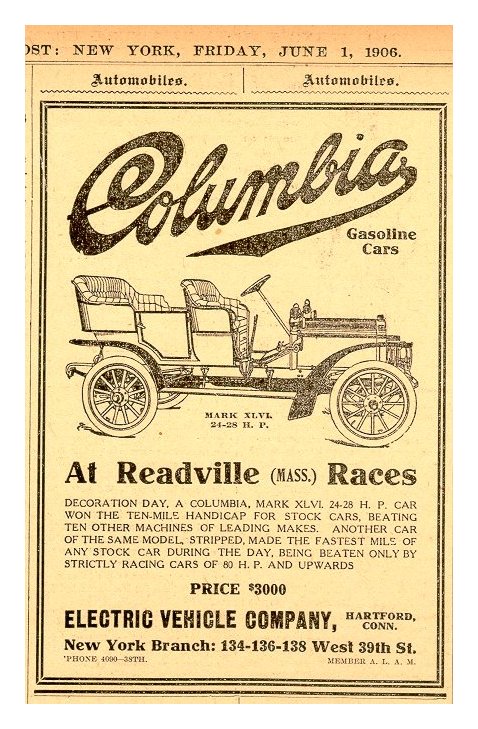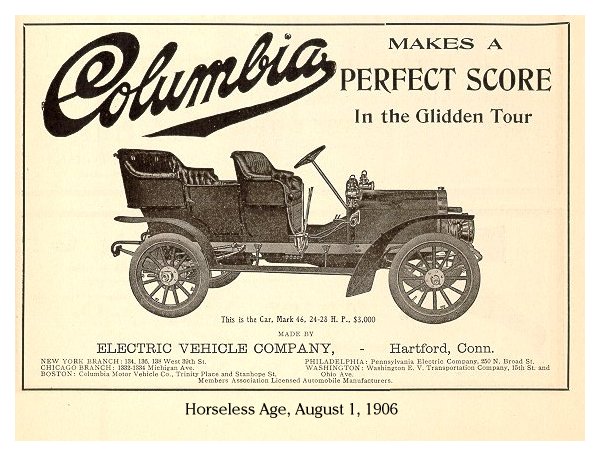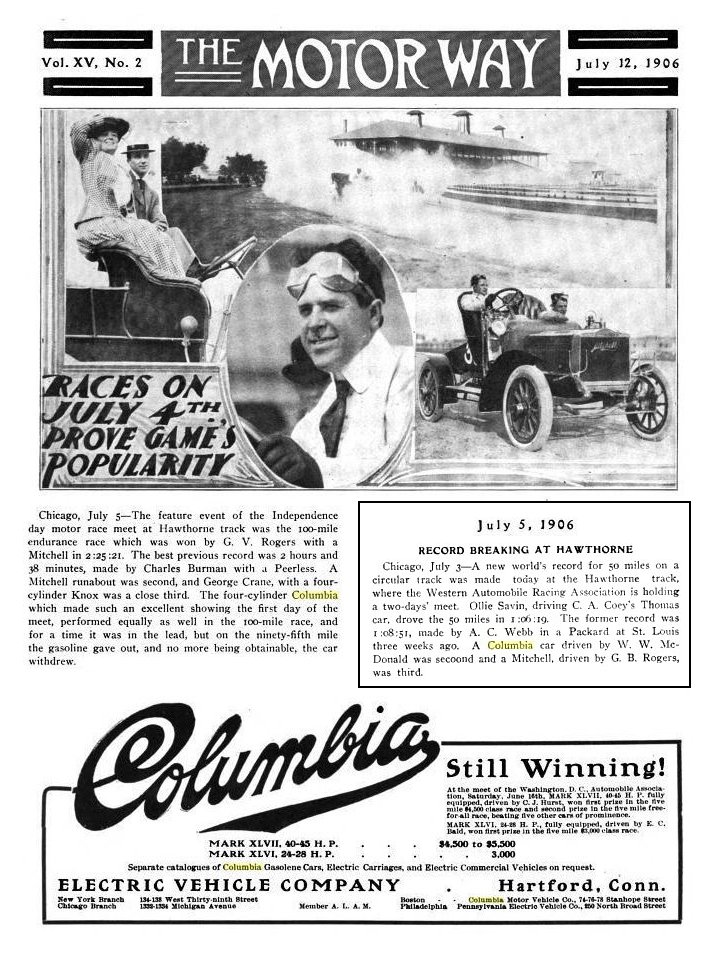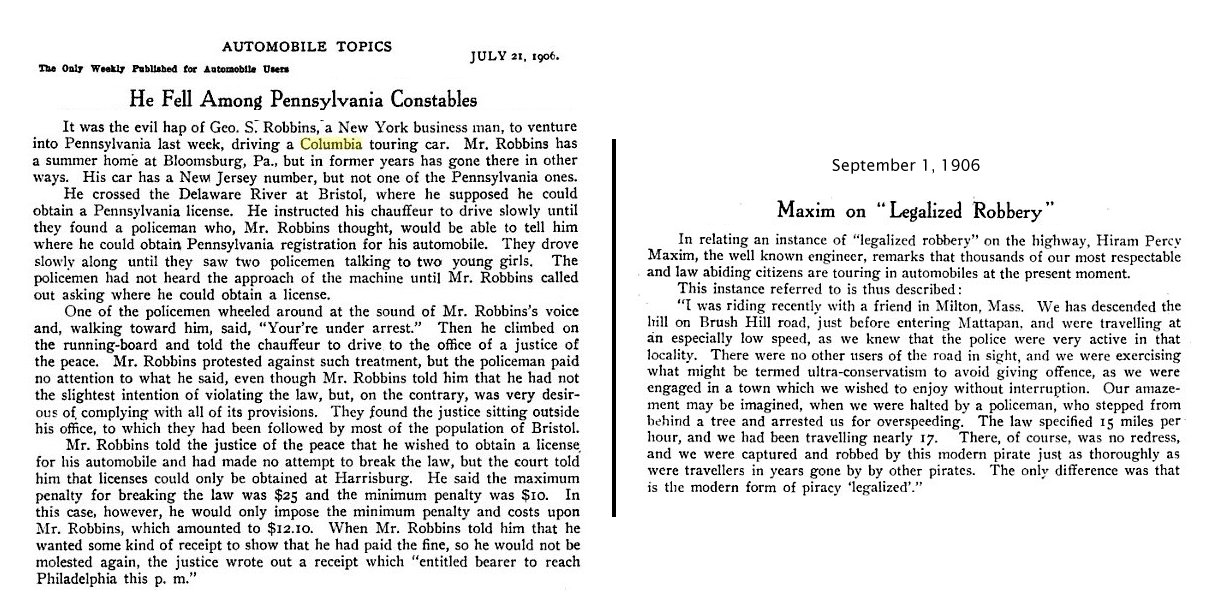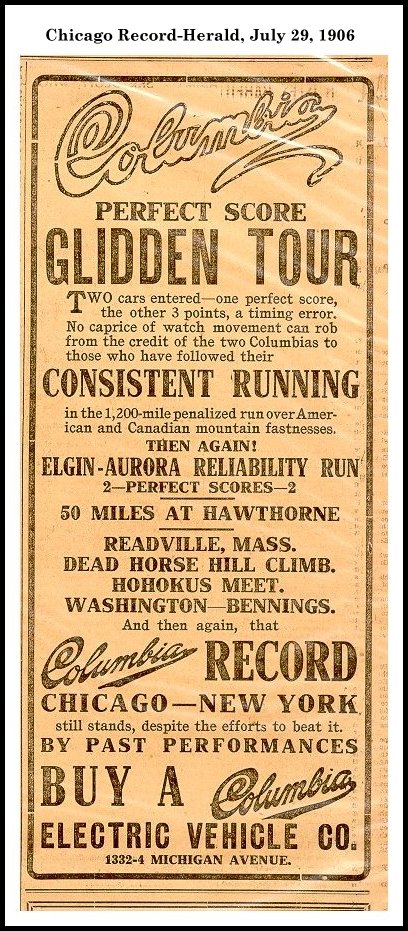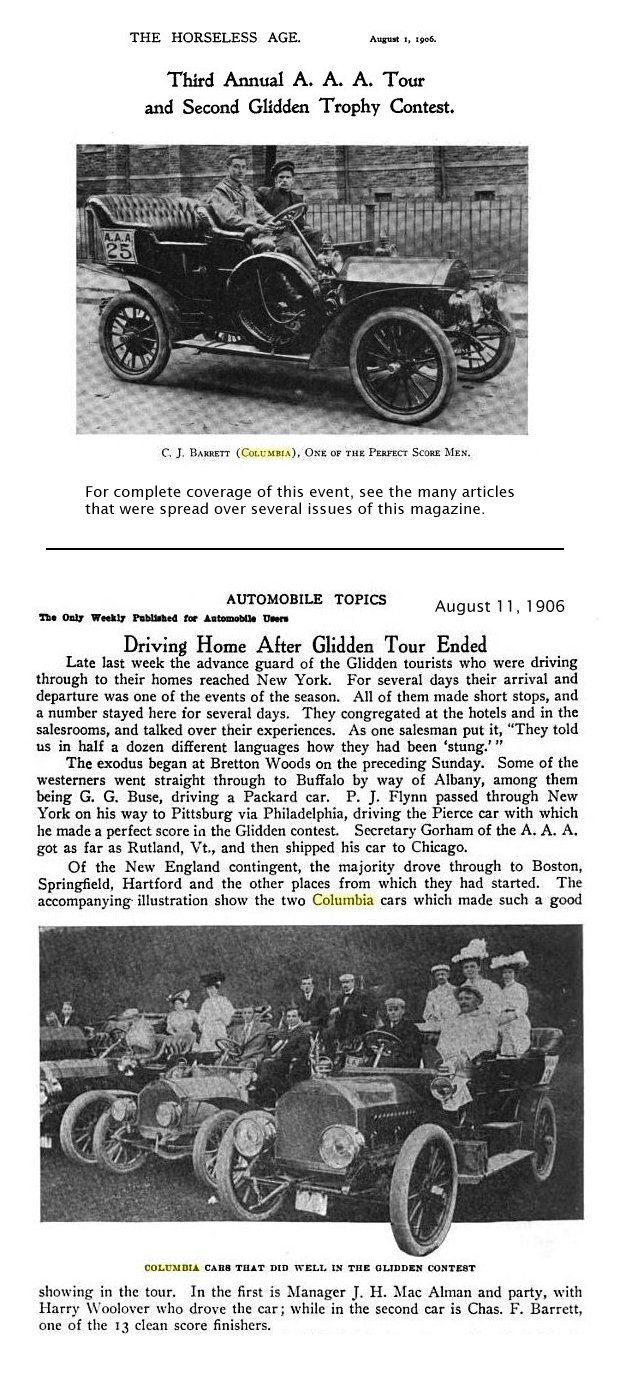 To see more photos of Charles Barrett at this event,
click
HERE
.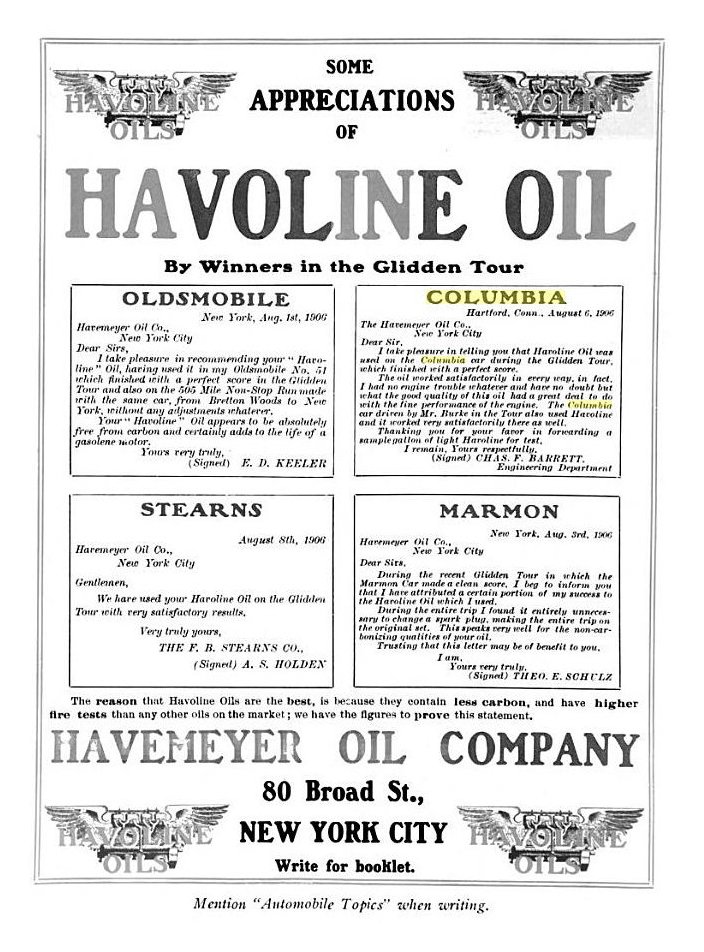 To see more ads for other automotive products which
used the "Columbia" name to bolster their own image,
click here
.
The following opinion by Hiram Percy Maxim is dated May, 1907, but
makes reference to the tour of 1906, as shown in the items just above.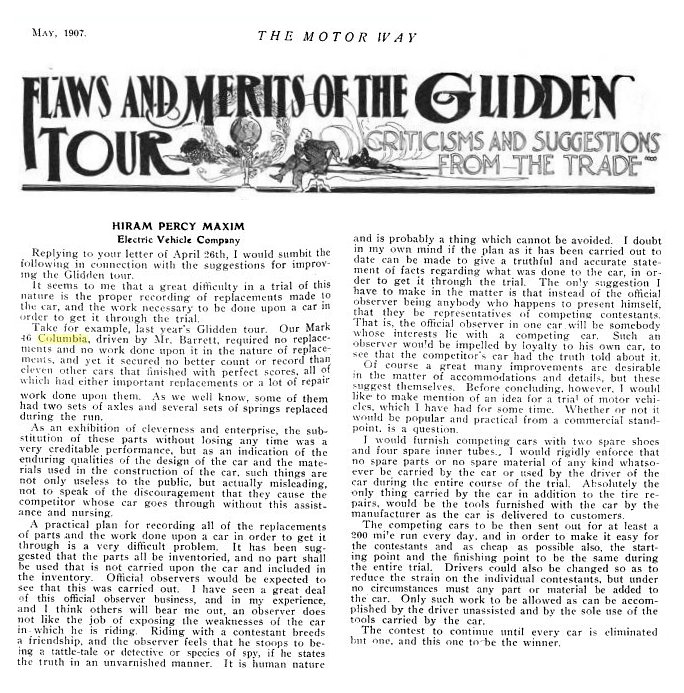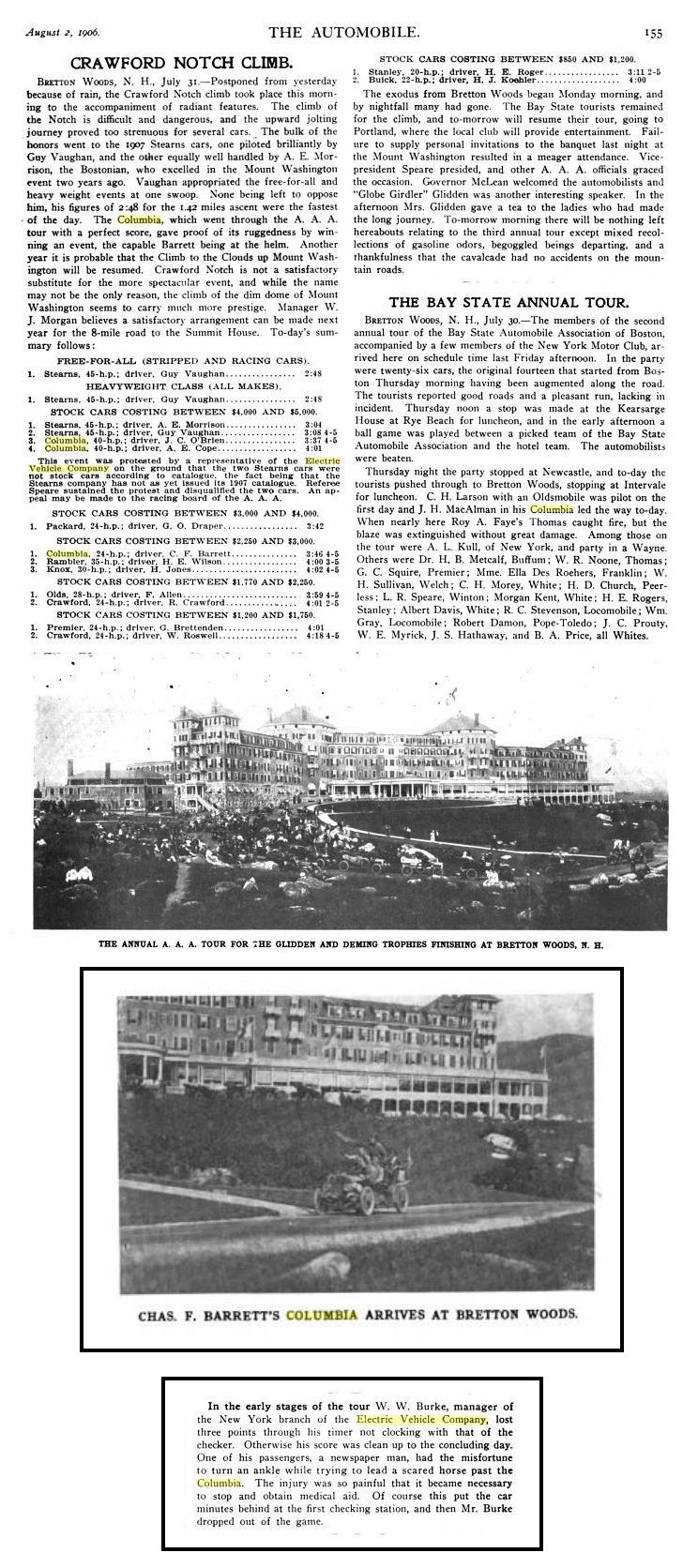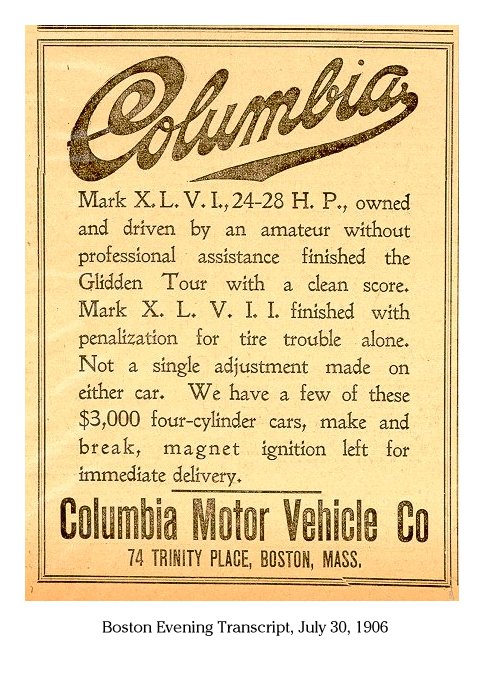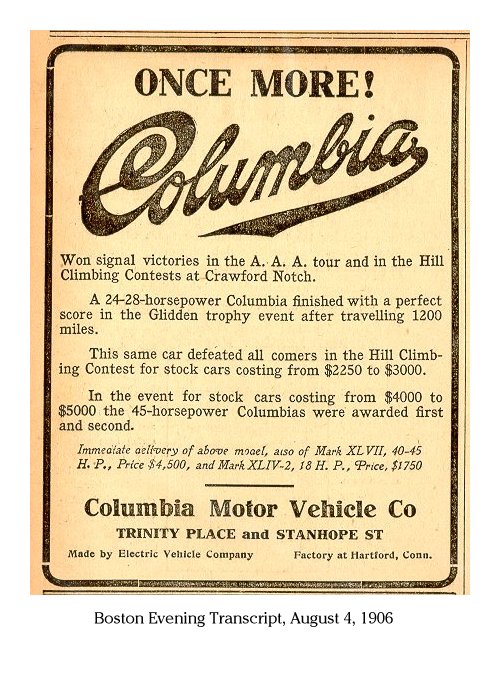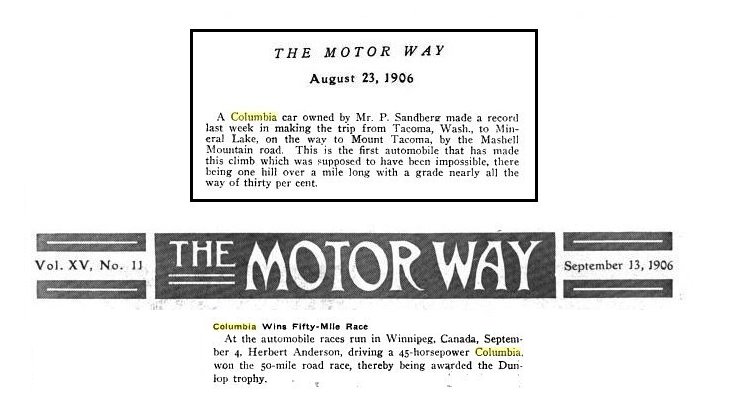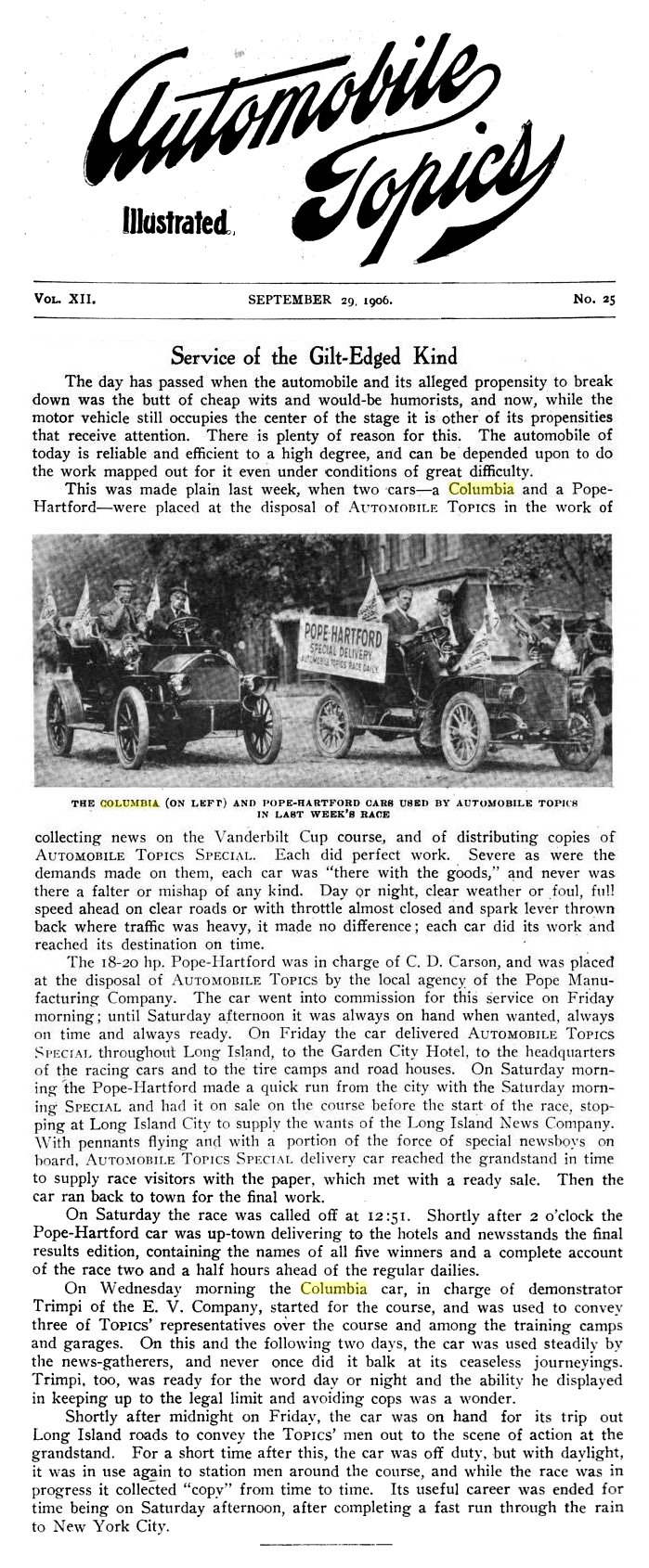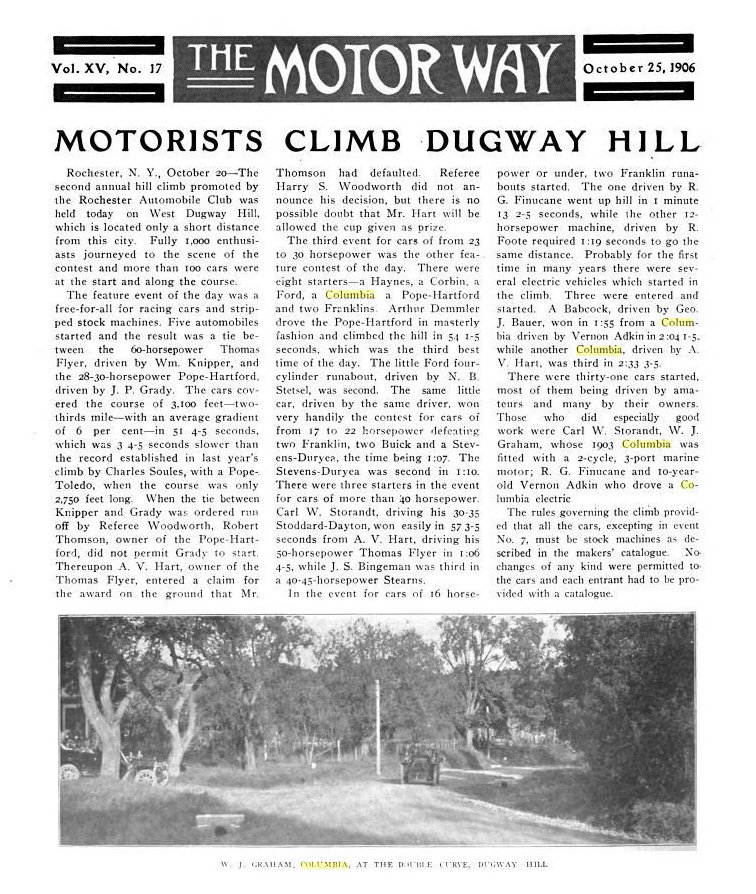 Los Angeles Times Nov. 9, 1906



"All automobile records between San Francisco and Los Angeles were smashed yesterday by Fernando Nelson, a northern contractor, who covered the 504 miles in a 1906 40-horsepower Columbia in 18 hours, 13 minutes," The Times reported. "This is three hours better than any previous record." Nelson arrived in Los Angeles, "down the Broadway hill from the tunnel, with horn tooting loudly and his joyous passengers cheering to the limit of their lung strengths."

Encountering delays with horses and buggies and a wild black stallion, Nelson lamented that "once in a while, men are encountered who hate the automobile with a devil's hate, and who are meaner than is believable." He averaged 28 miles per hour, with two breaks for "good square meals." The Southern Pacific Railroad was then making the San Francisco-Los Angeles run in 16 hours.




* * * * *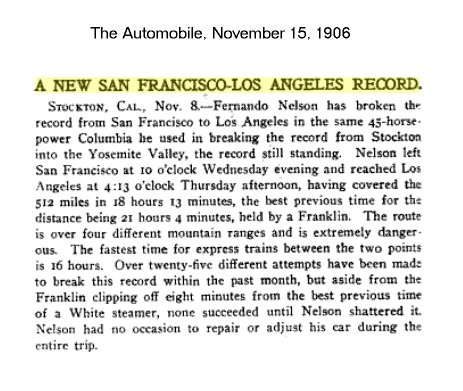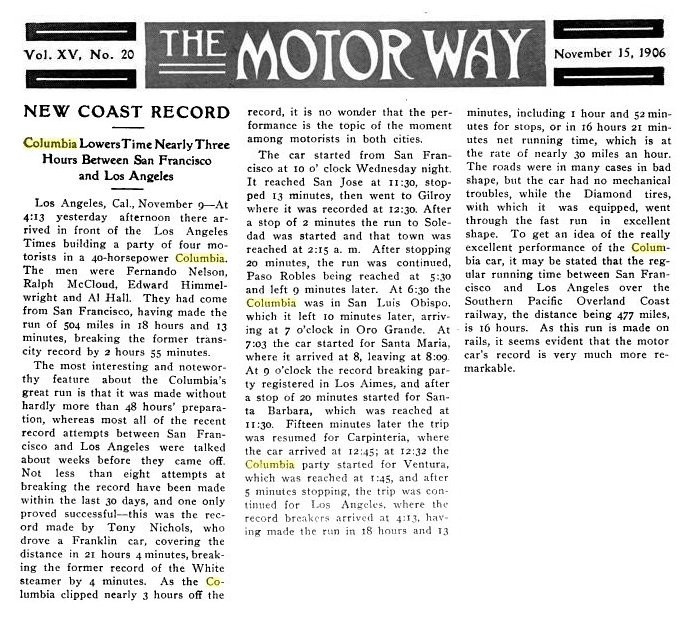 To read a detailed account of this trip
which was published in
Sunset Magazine
,
click
HERE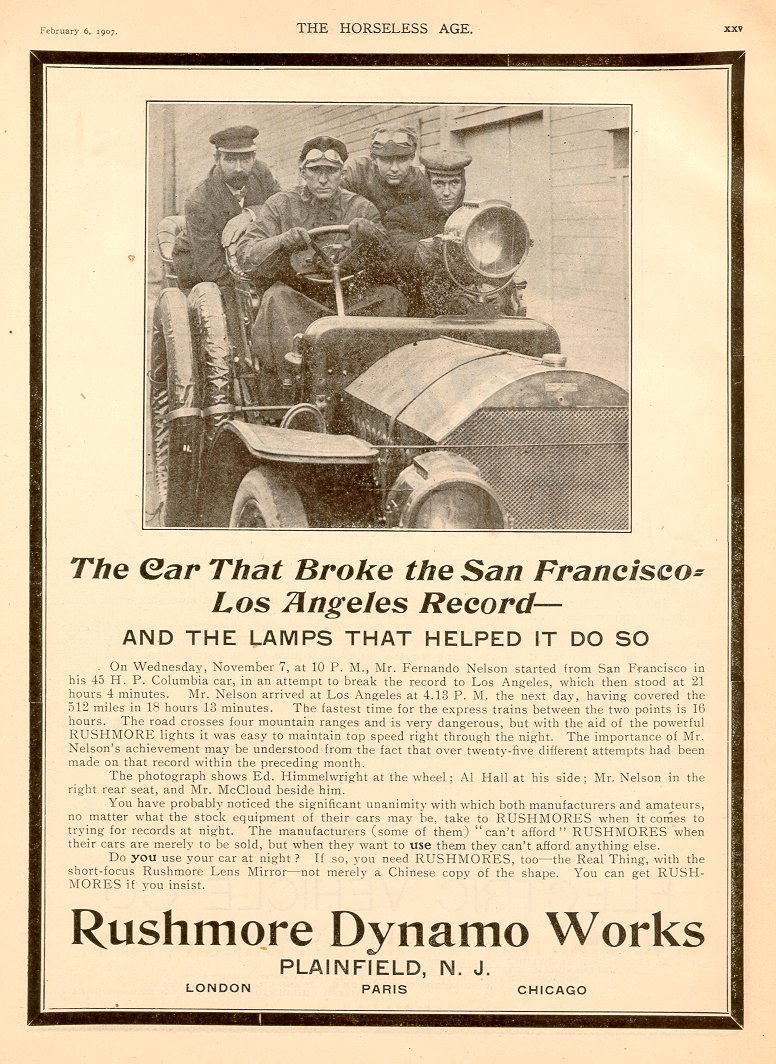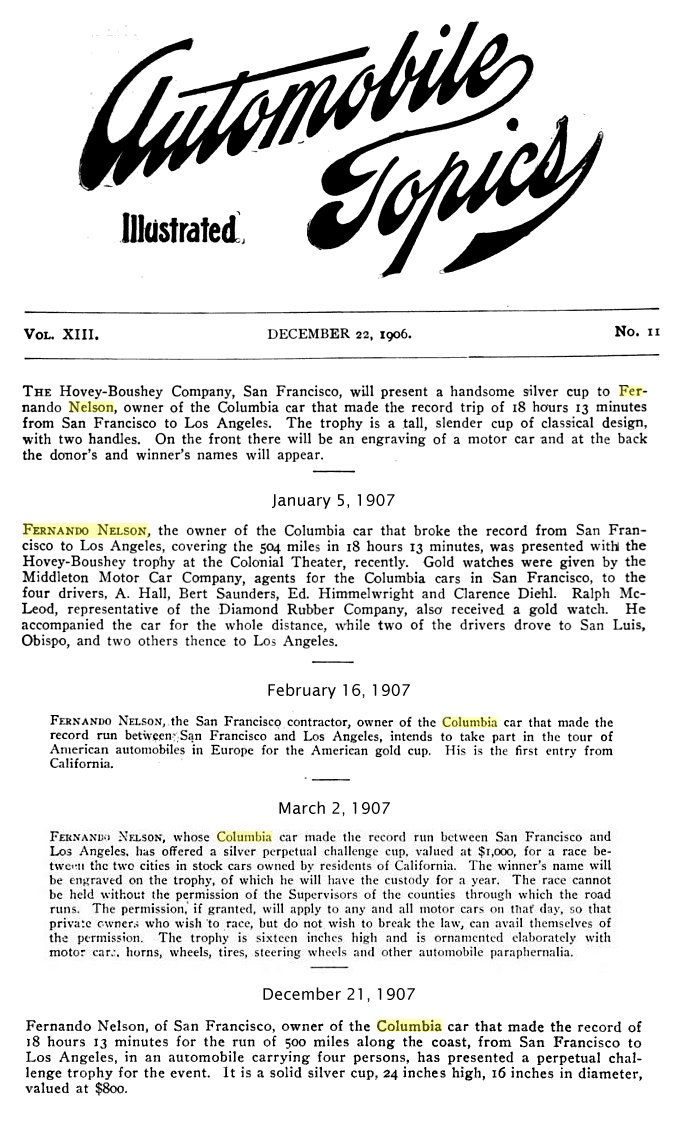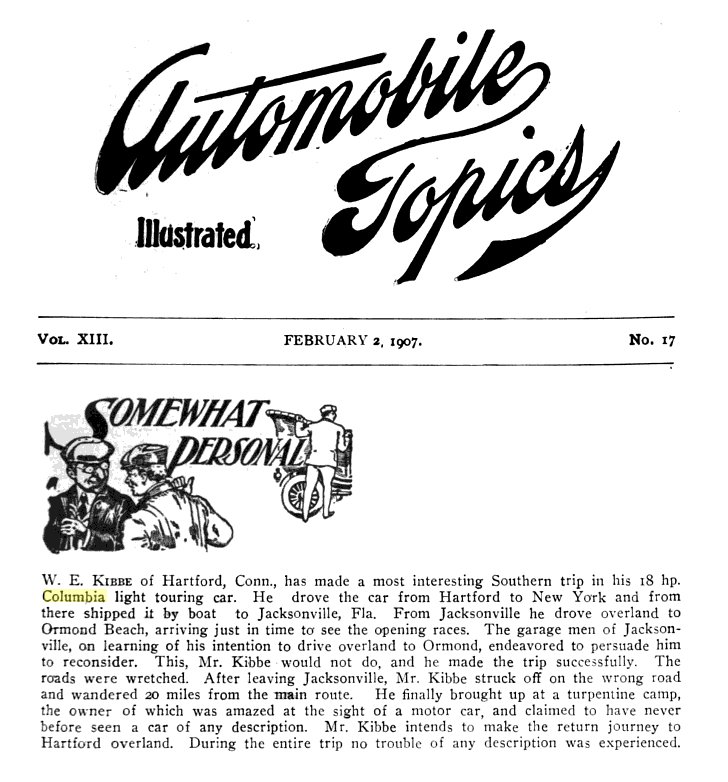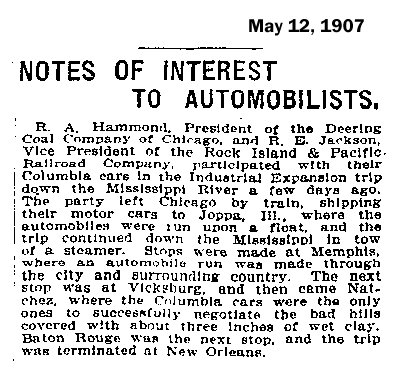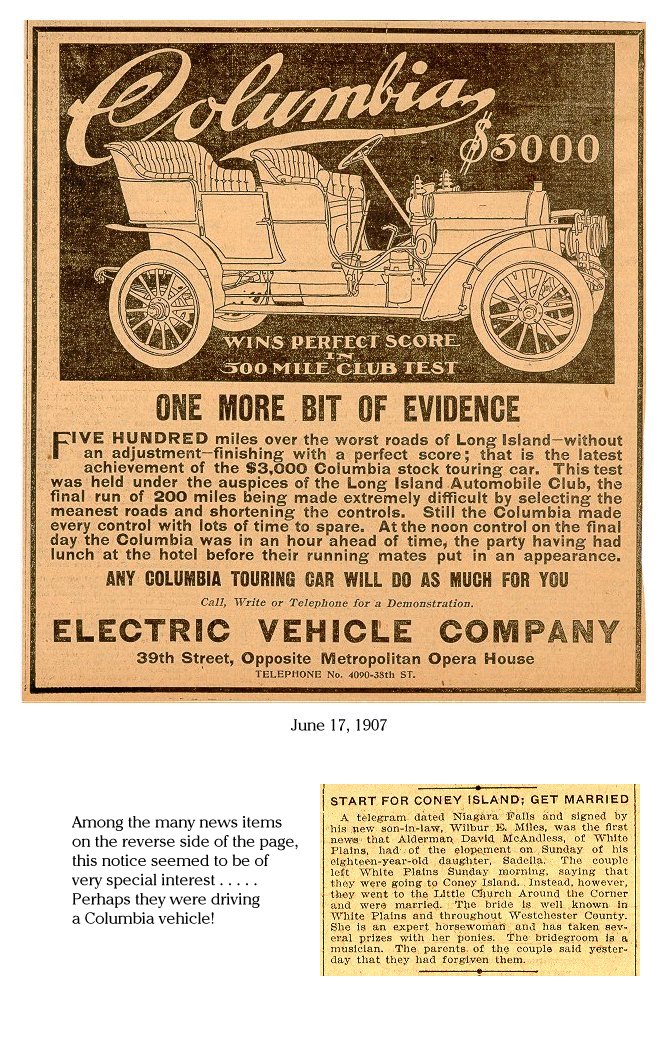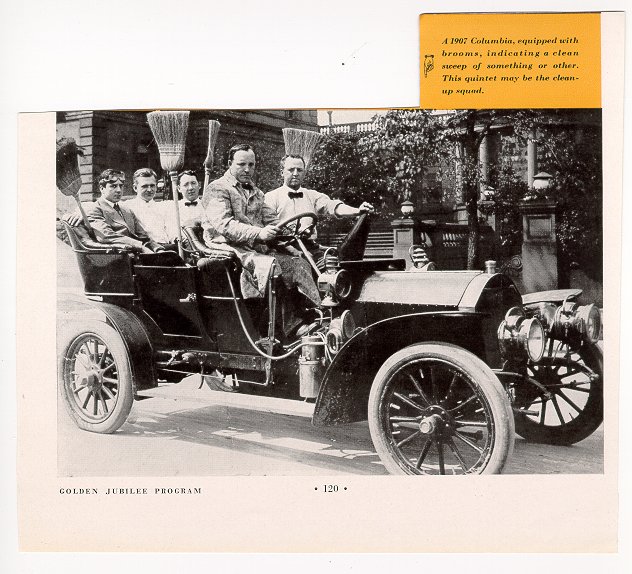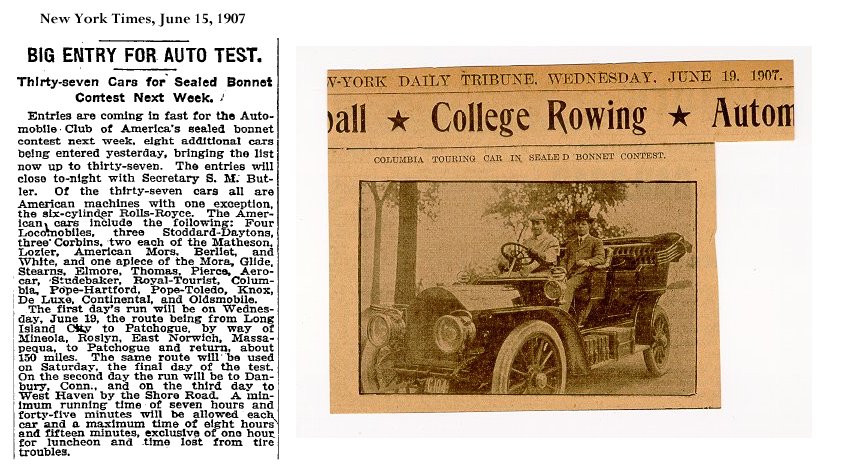 Detailed accounts of the
Sealed Bonnet Contest
are
on a later webpage, along with lengthy illustrated articles
about the Columbia Hybrid Gasoline-Electric car of 1907.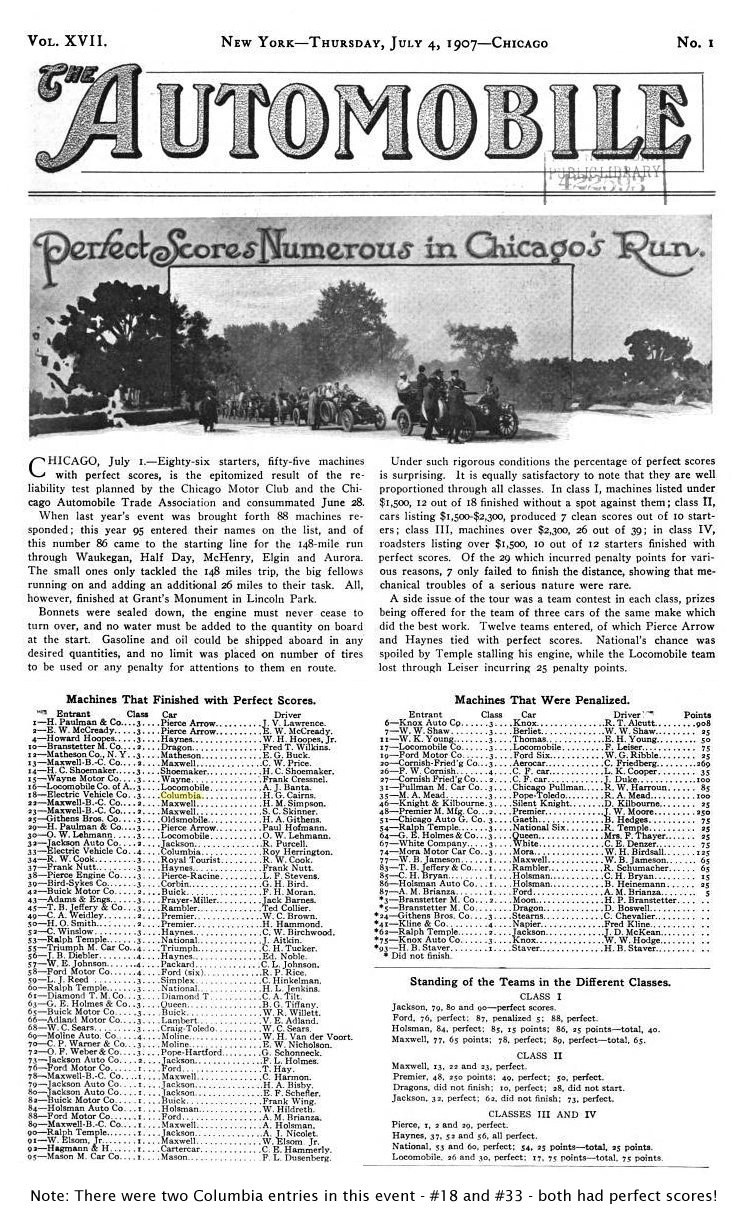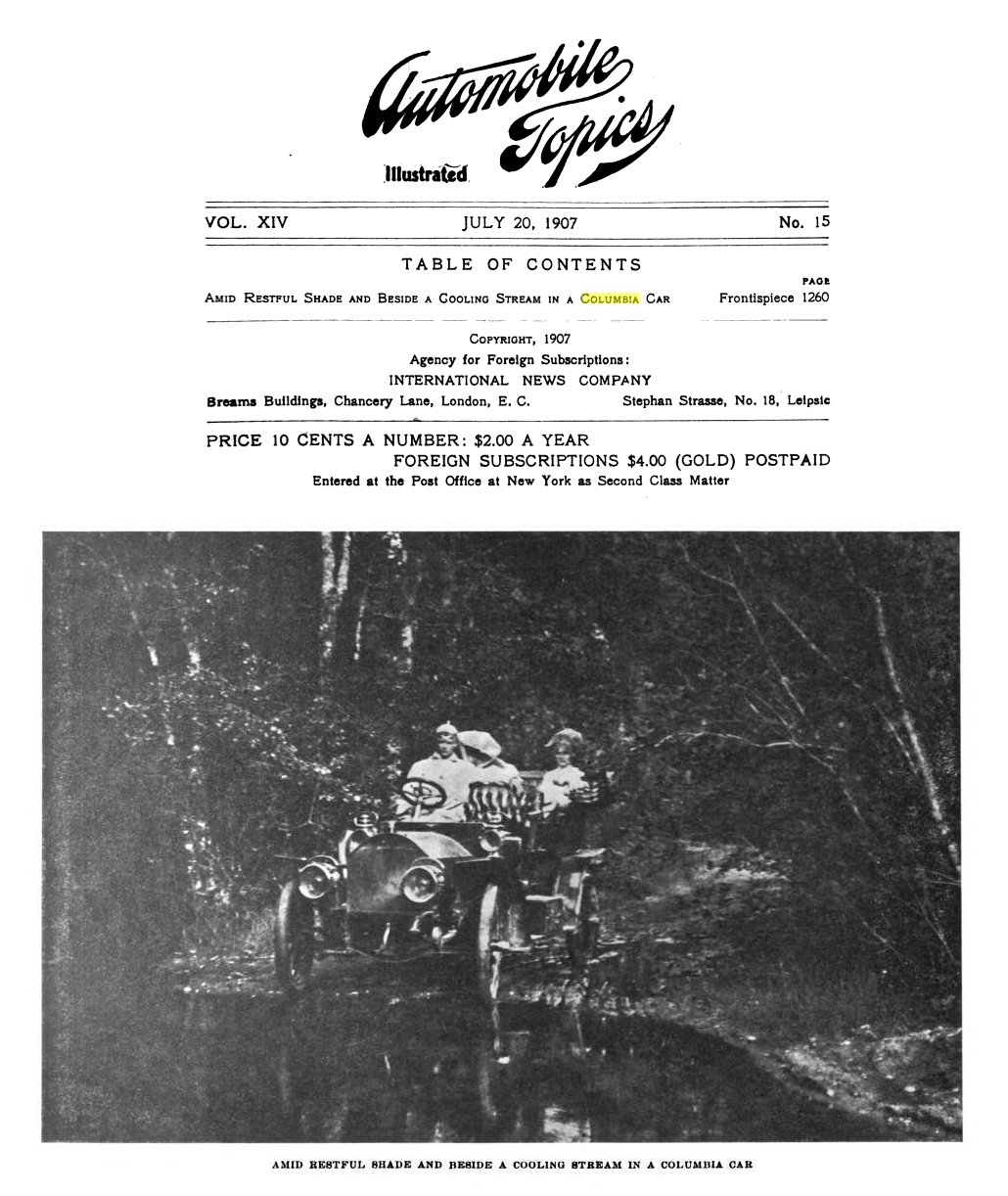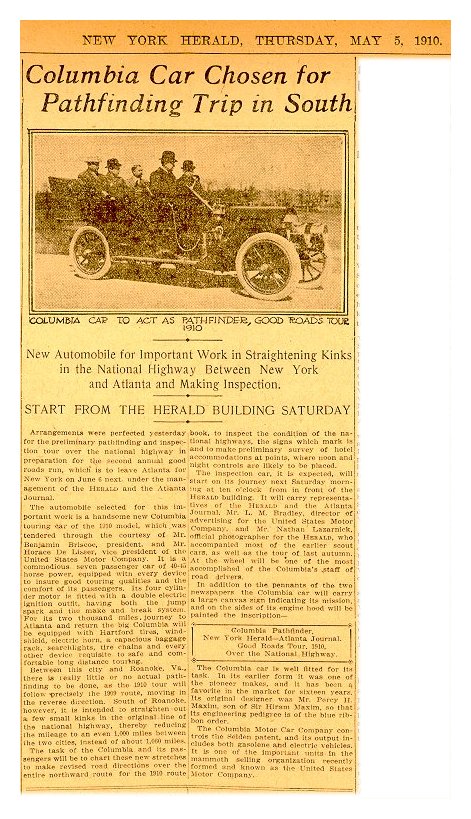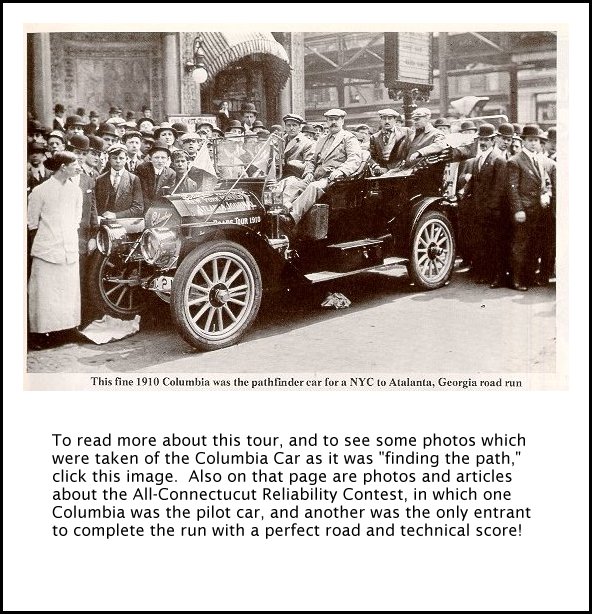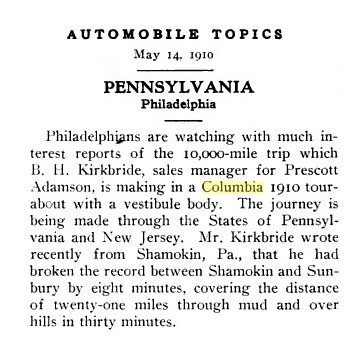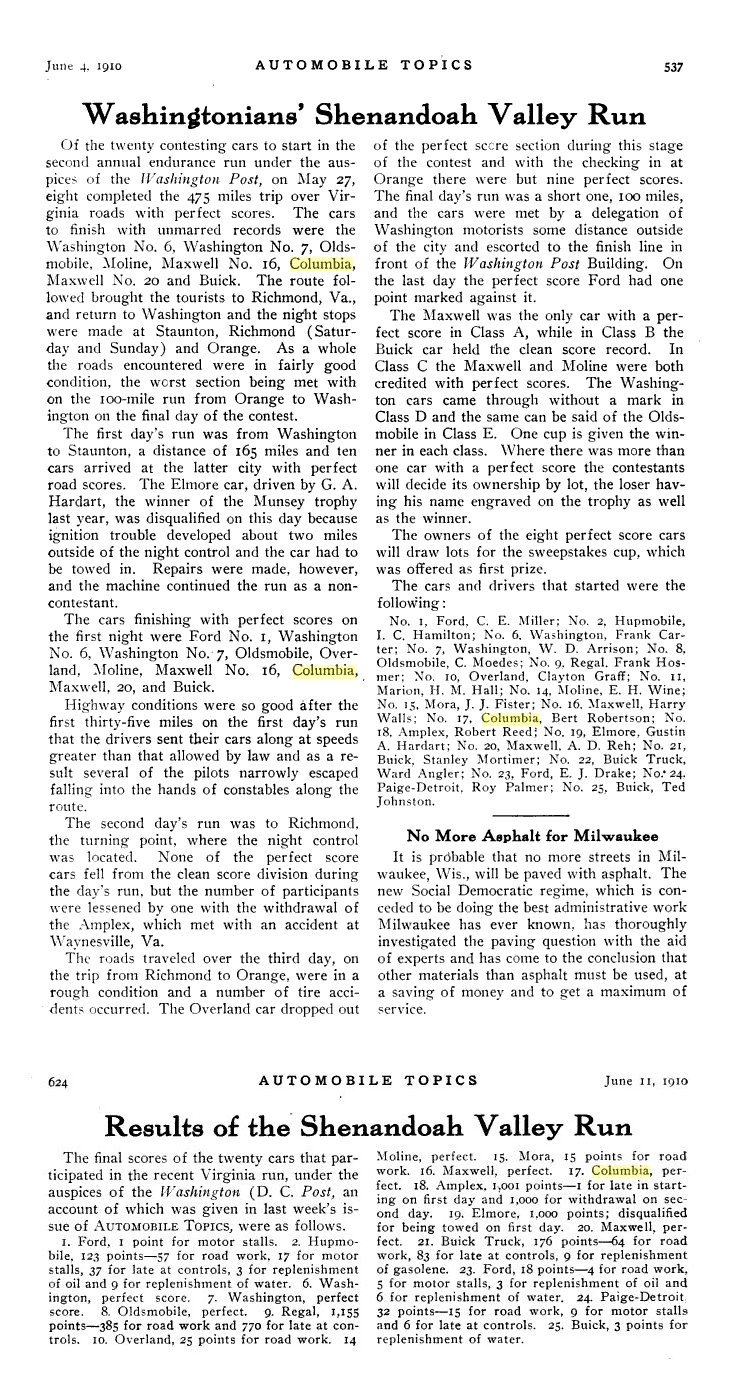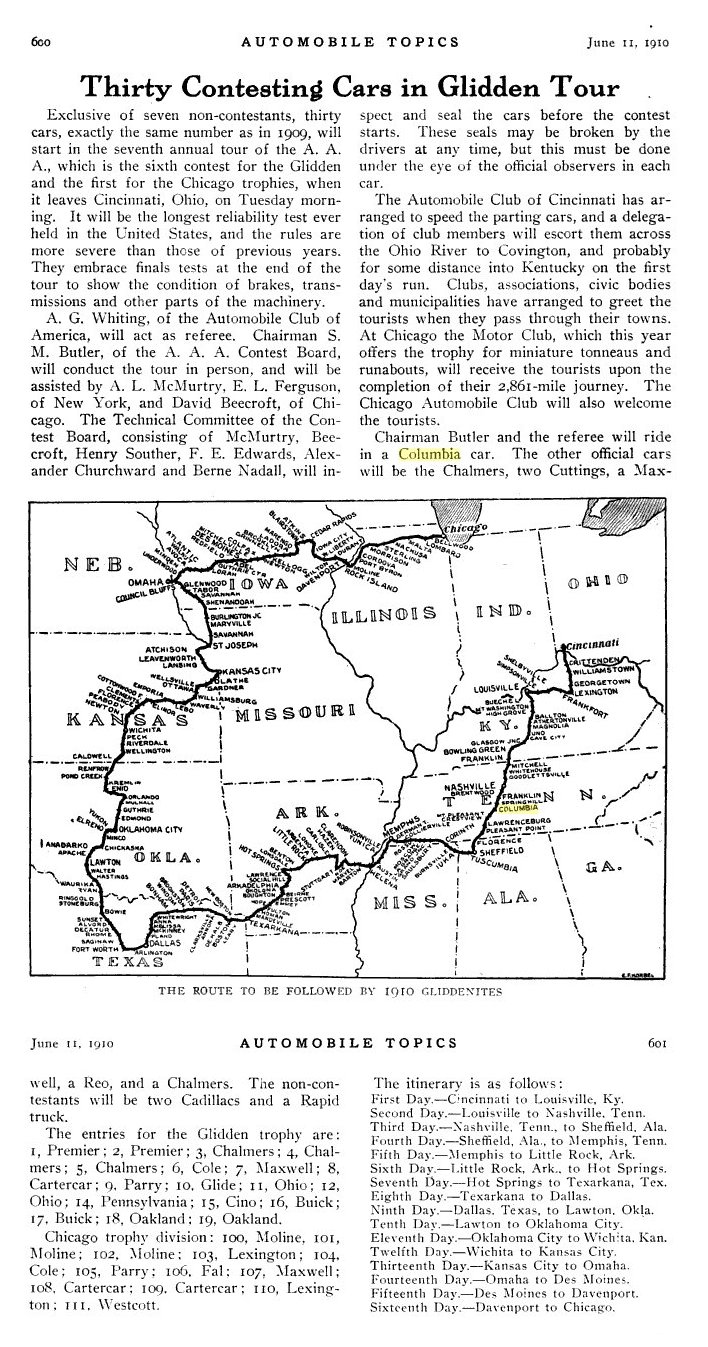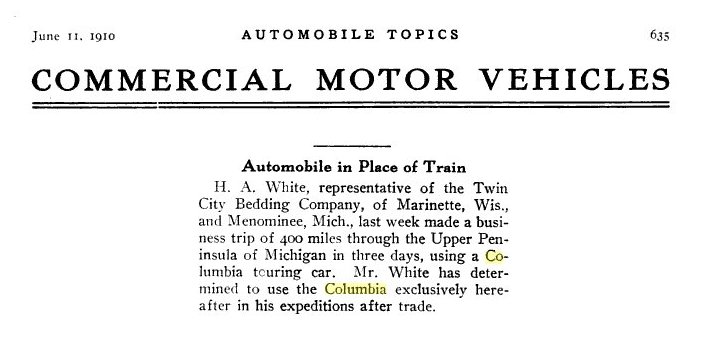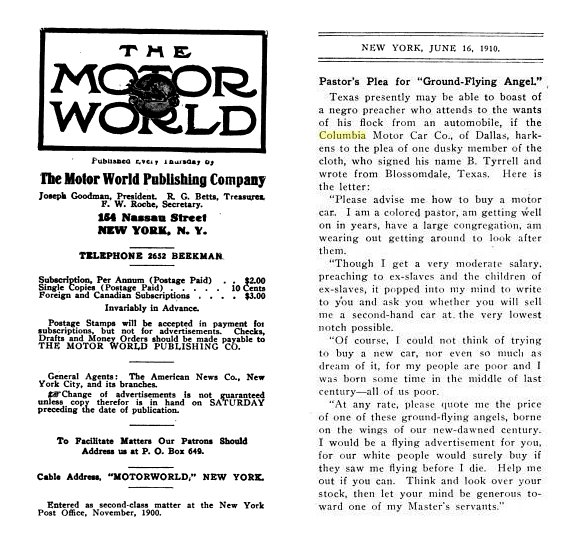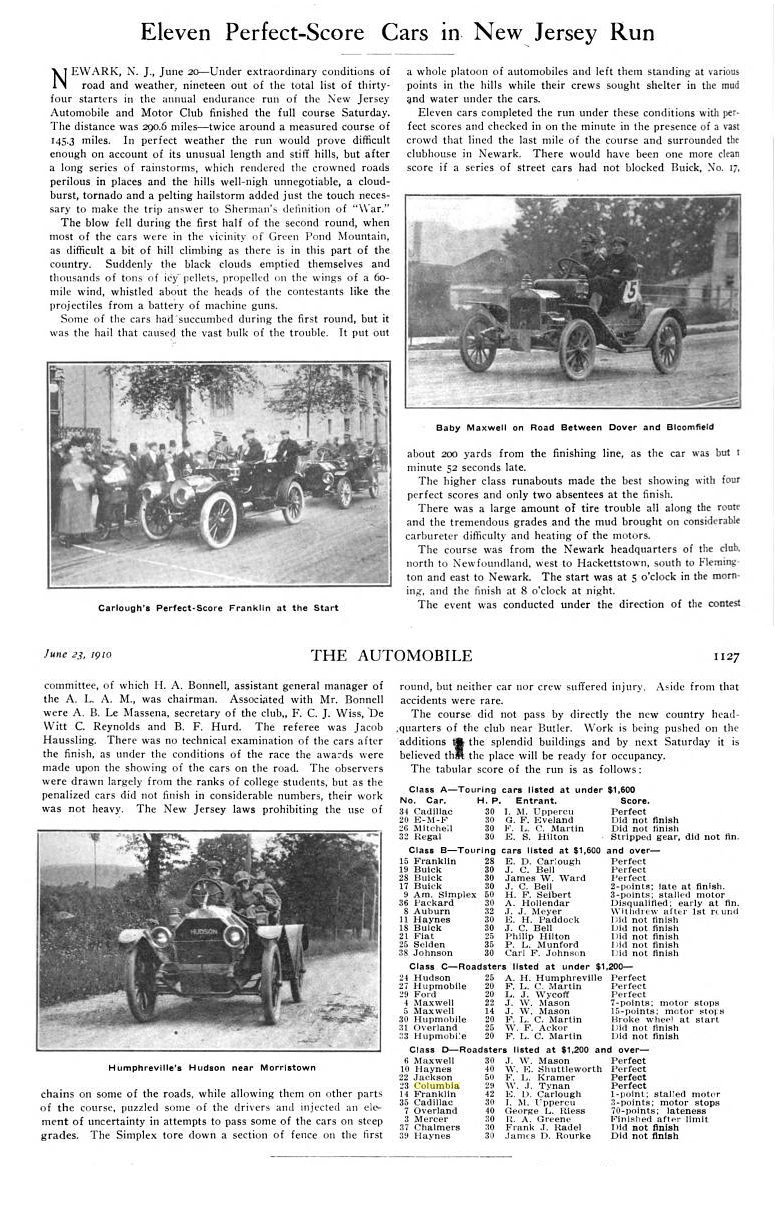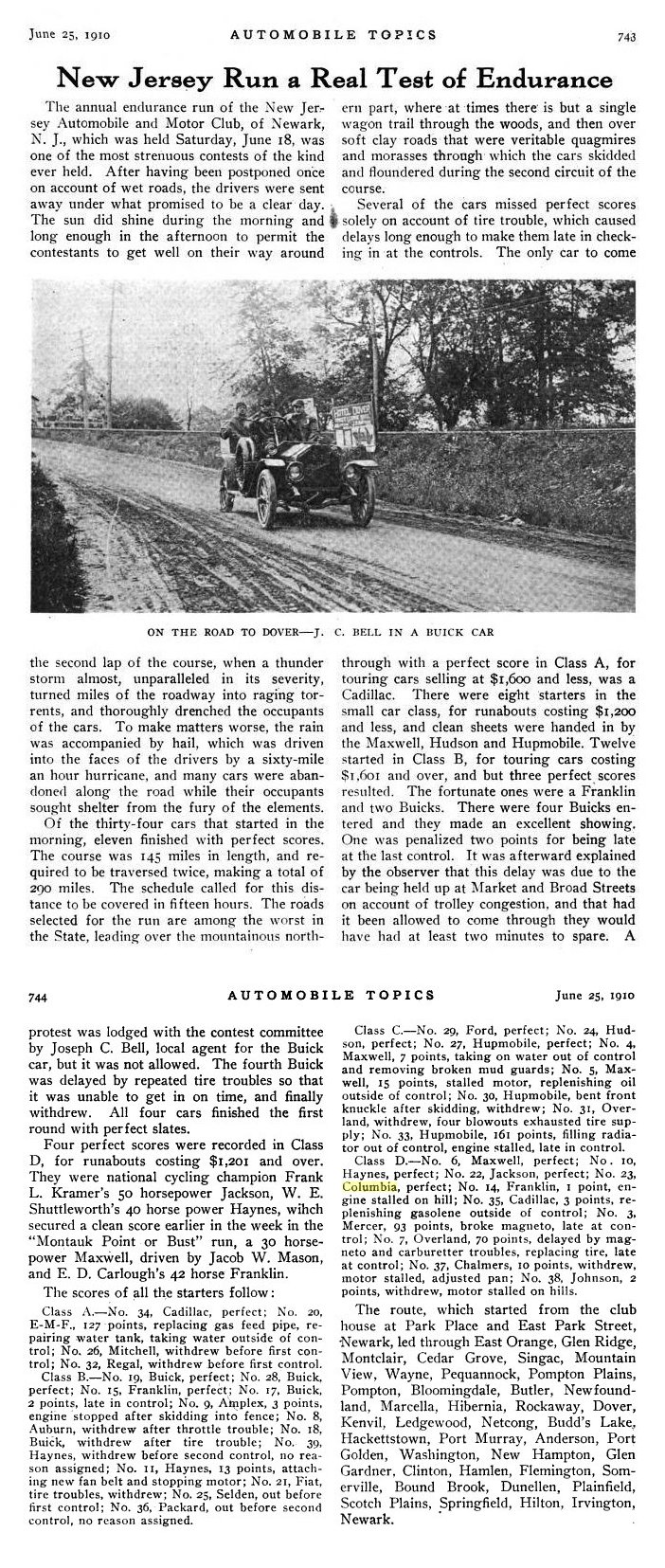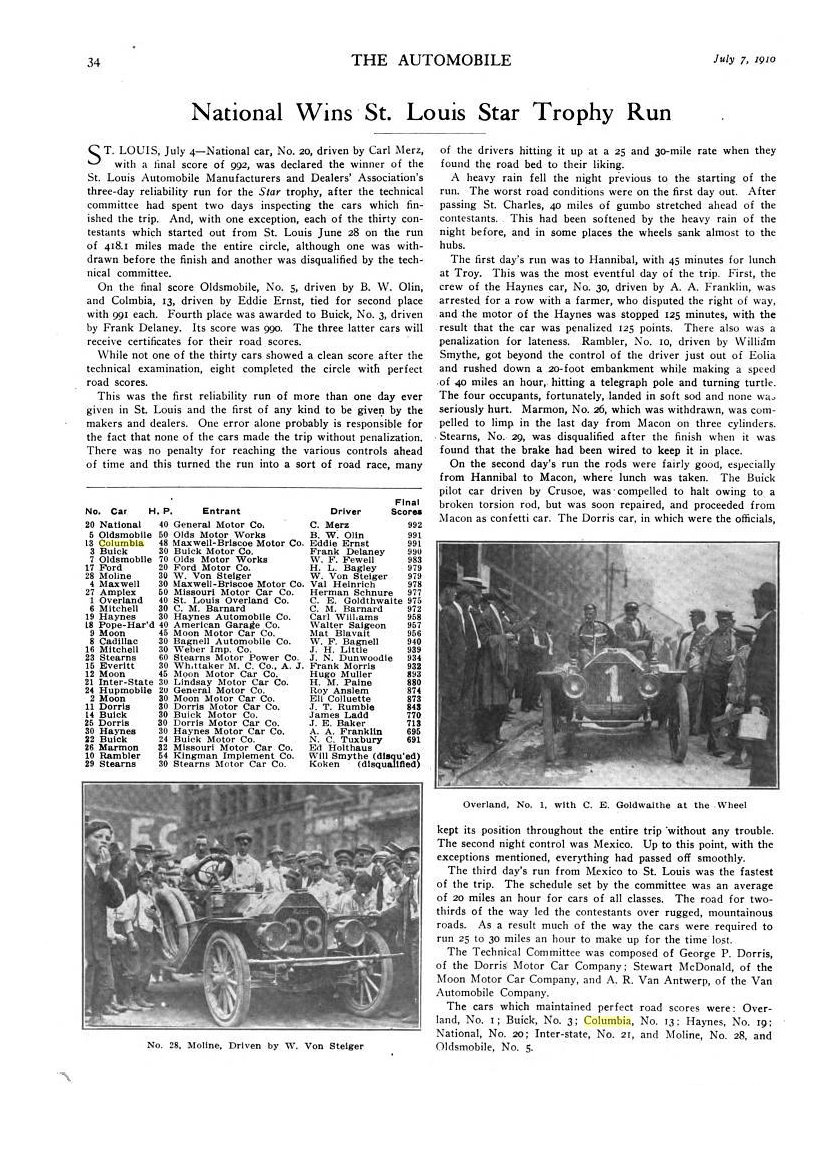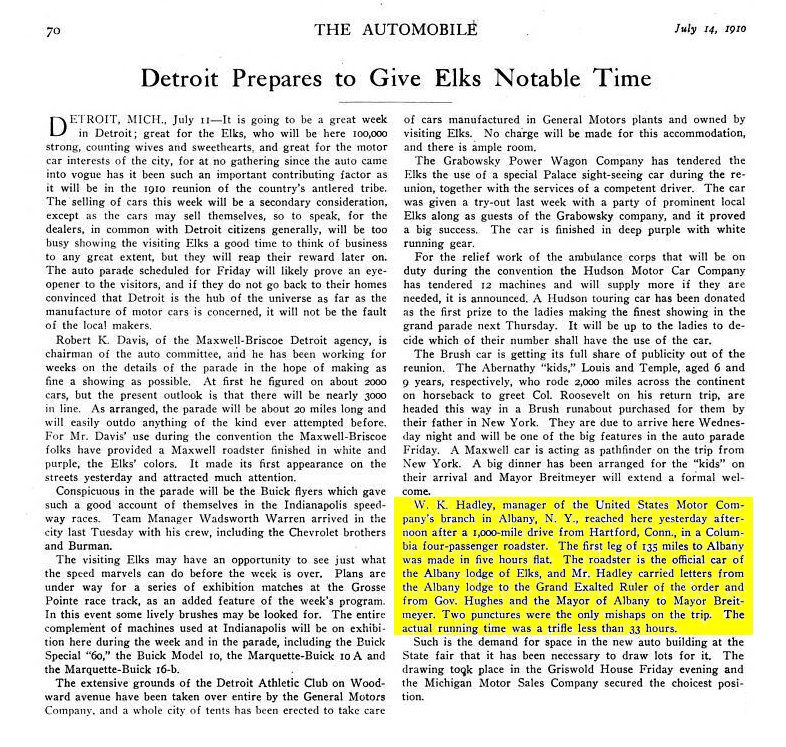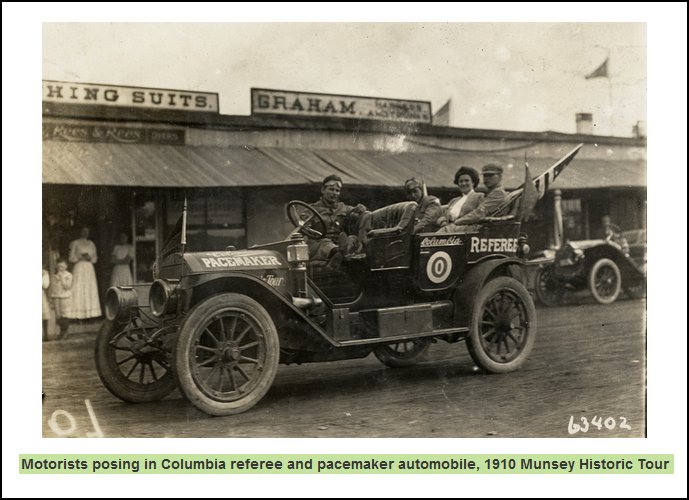 To see more photos and accounts of the Munsey Tours
of both 1909 and 1910, click
HERE
.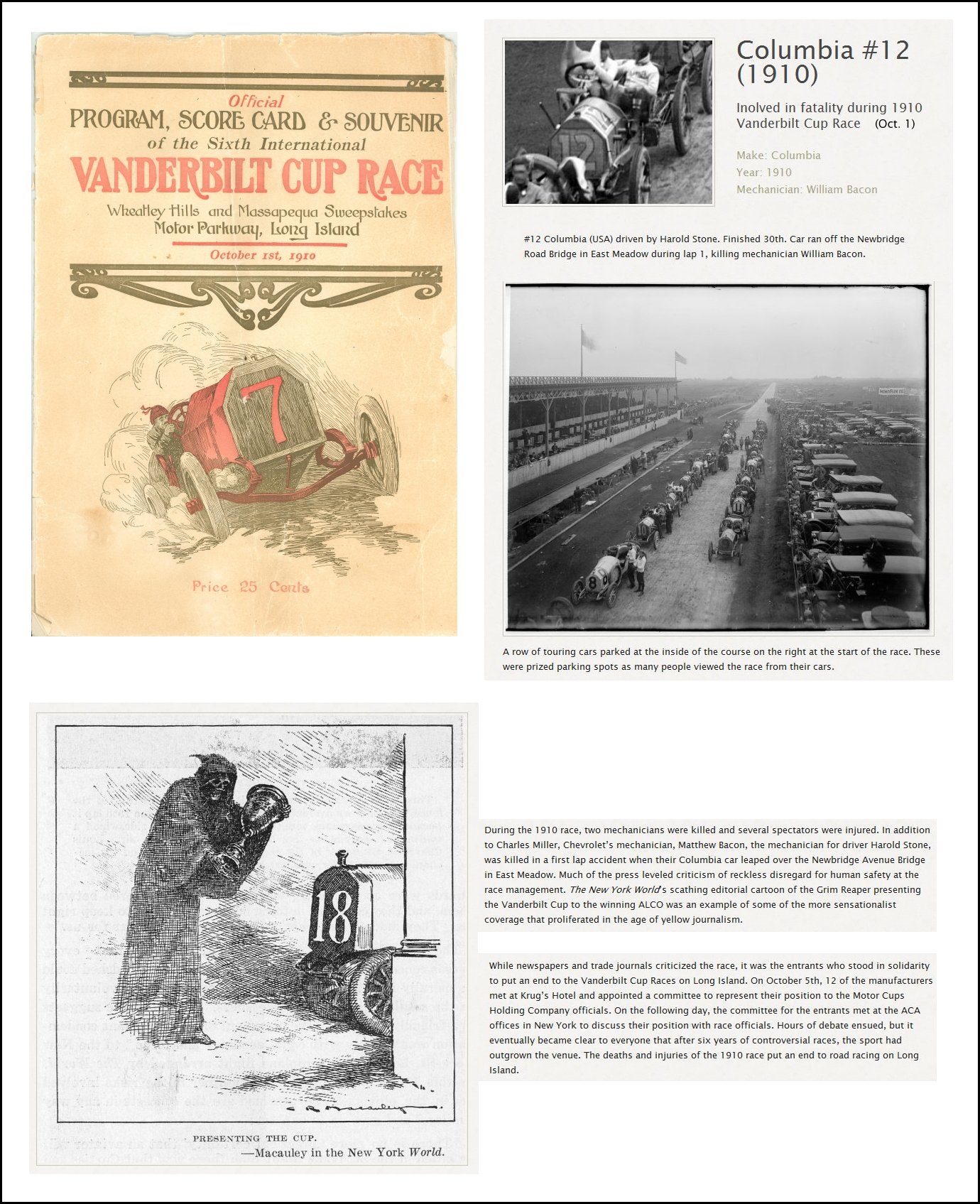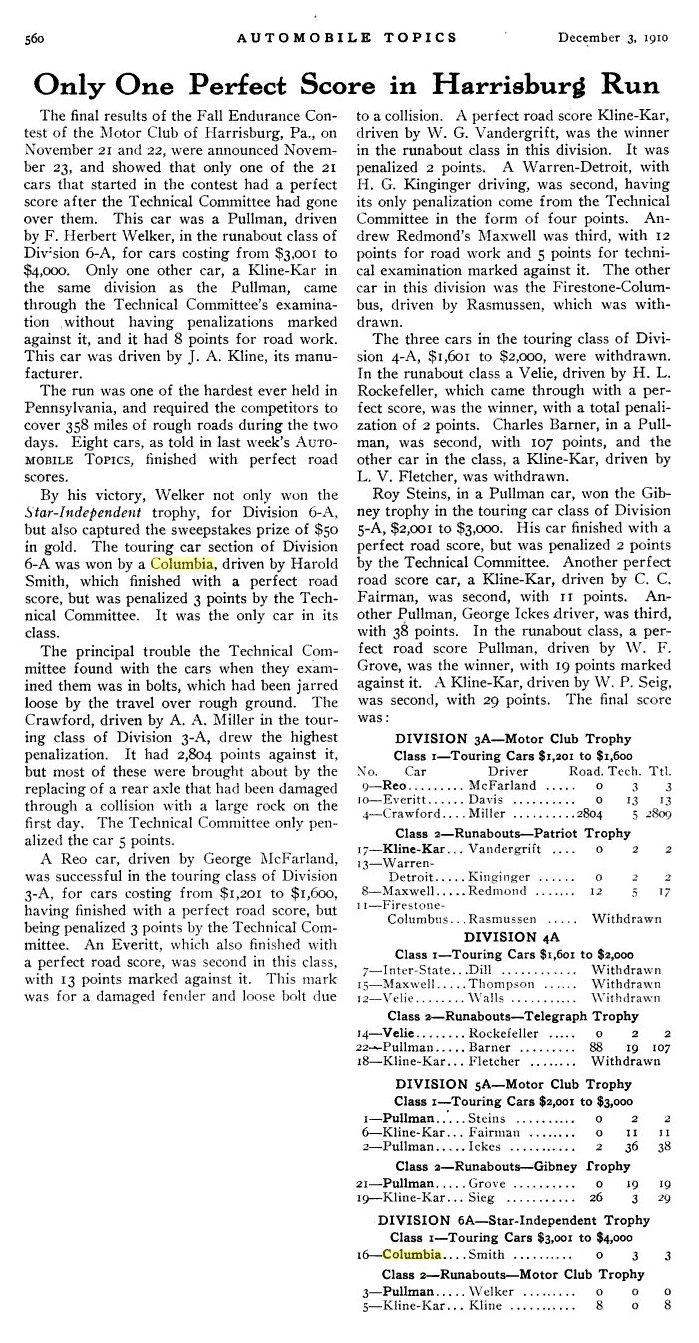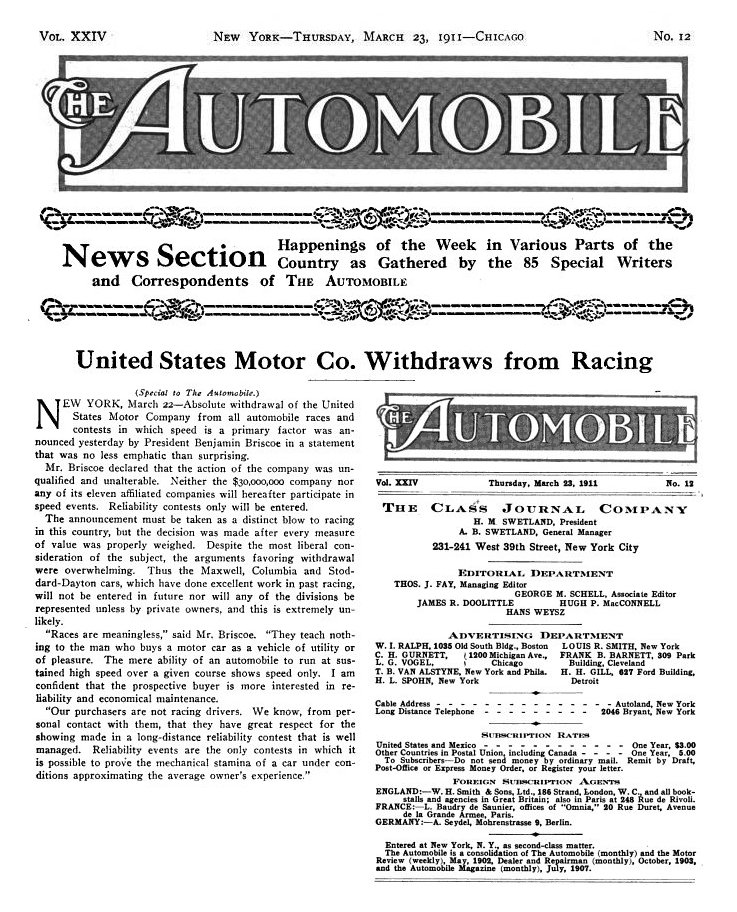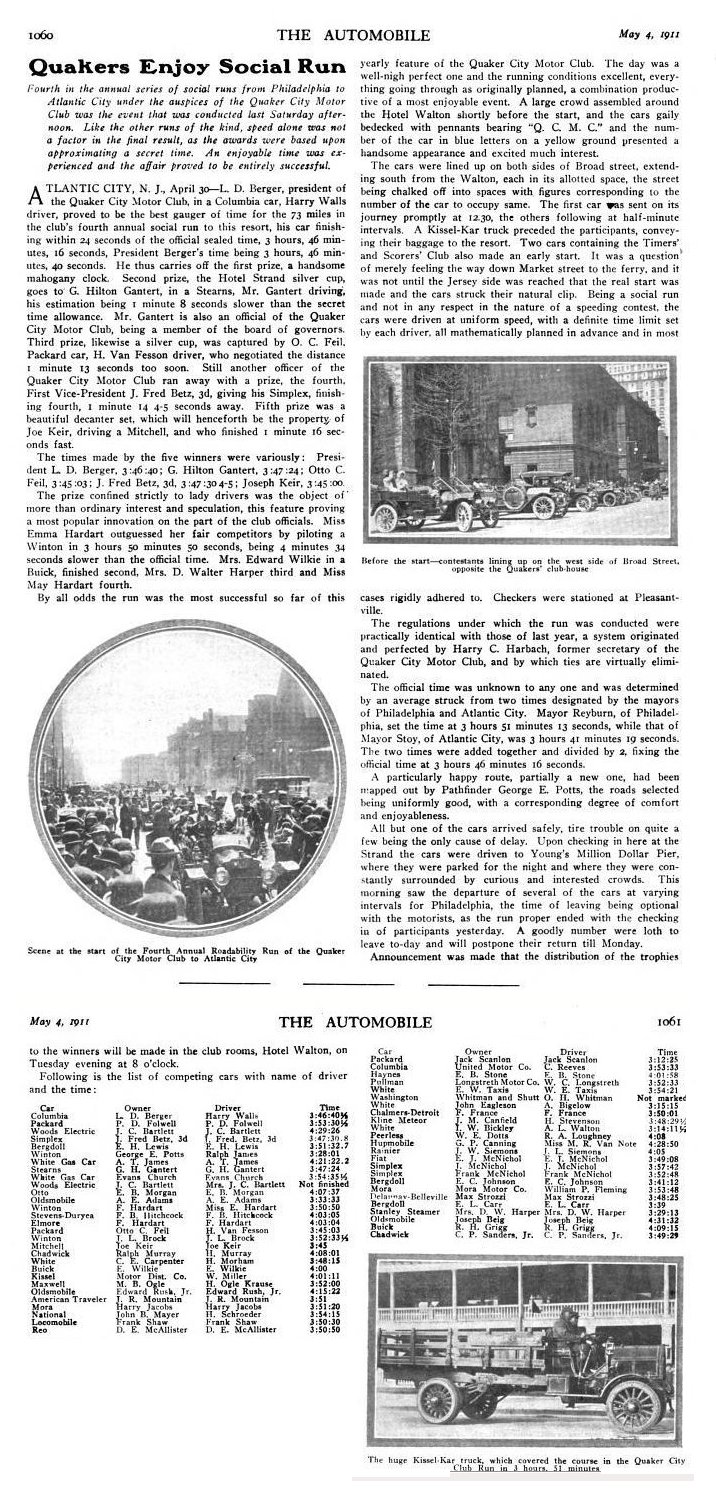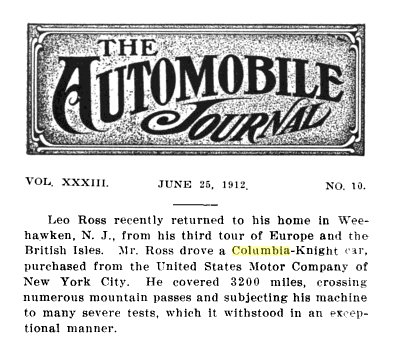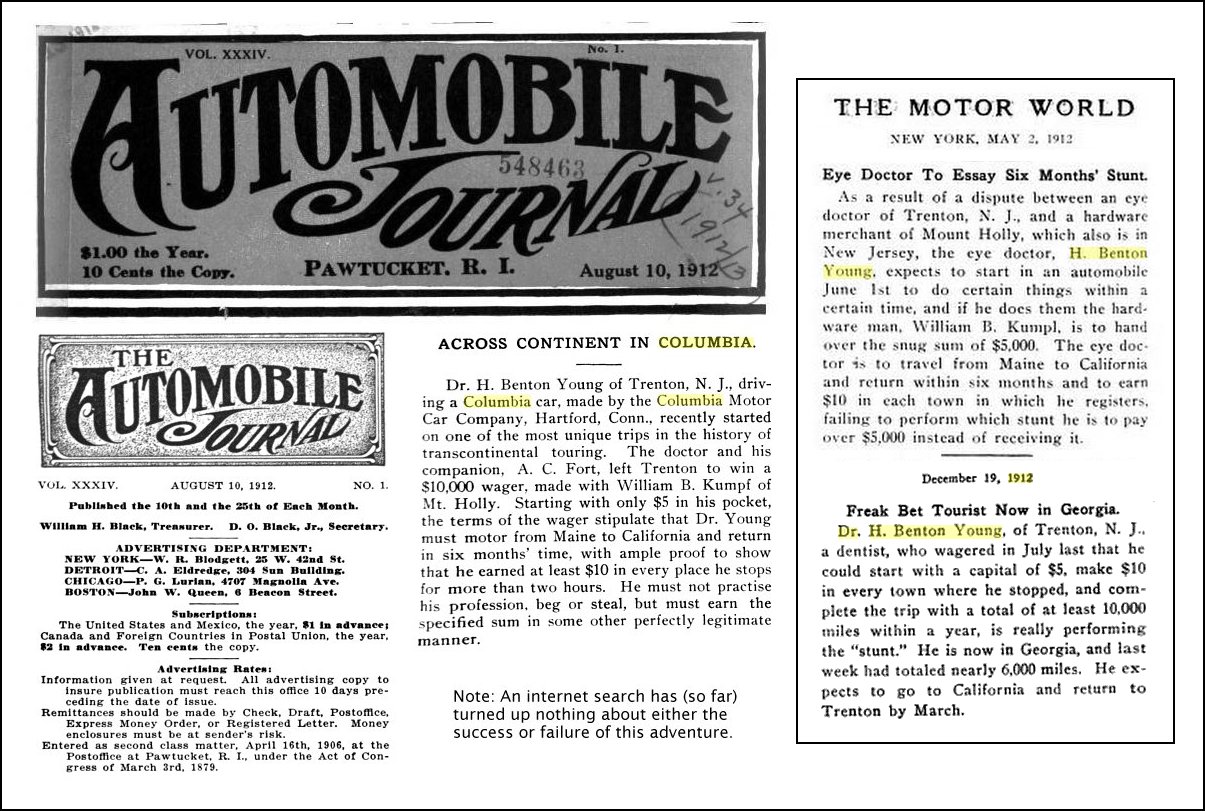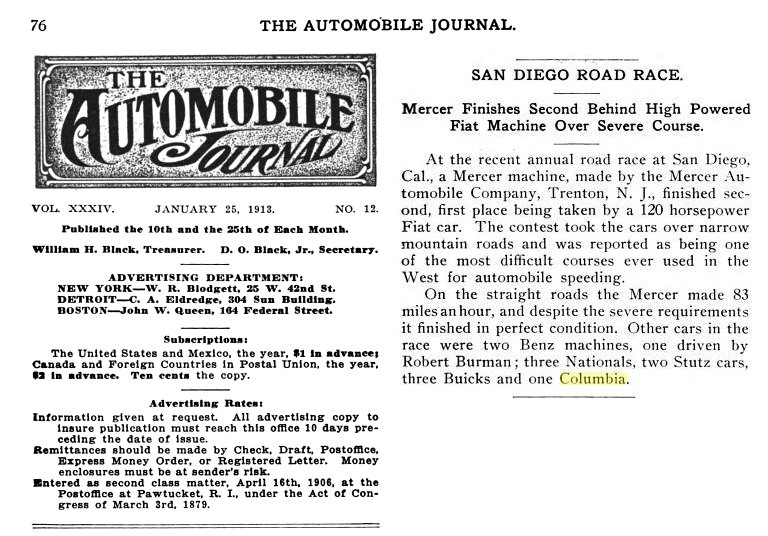 Sixty years later, a Columbia wins again!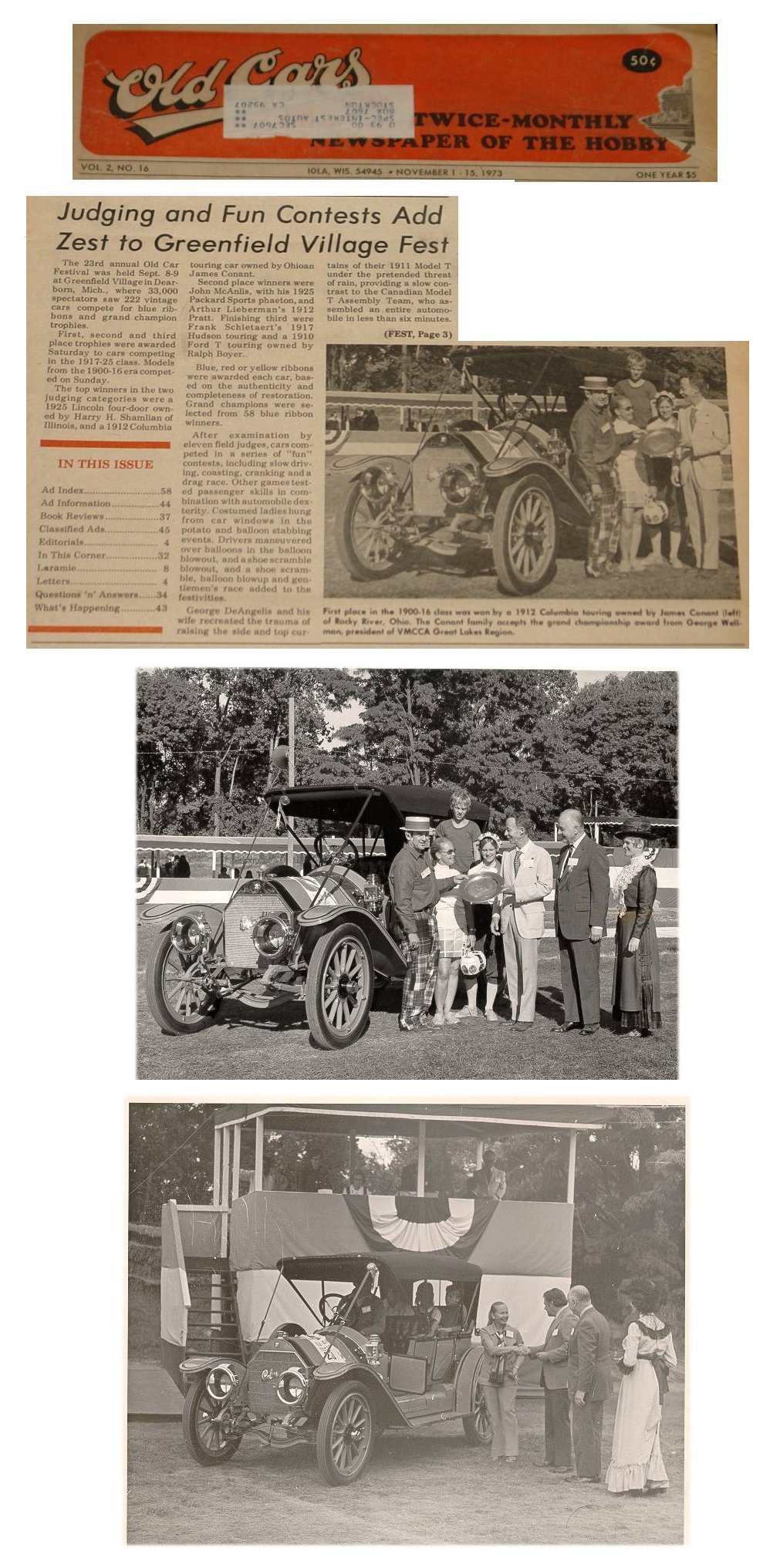 And a full century later, the Columbia is still winning awards!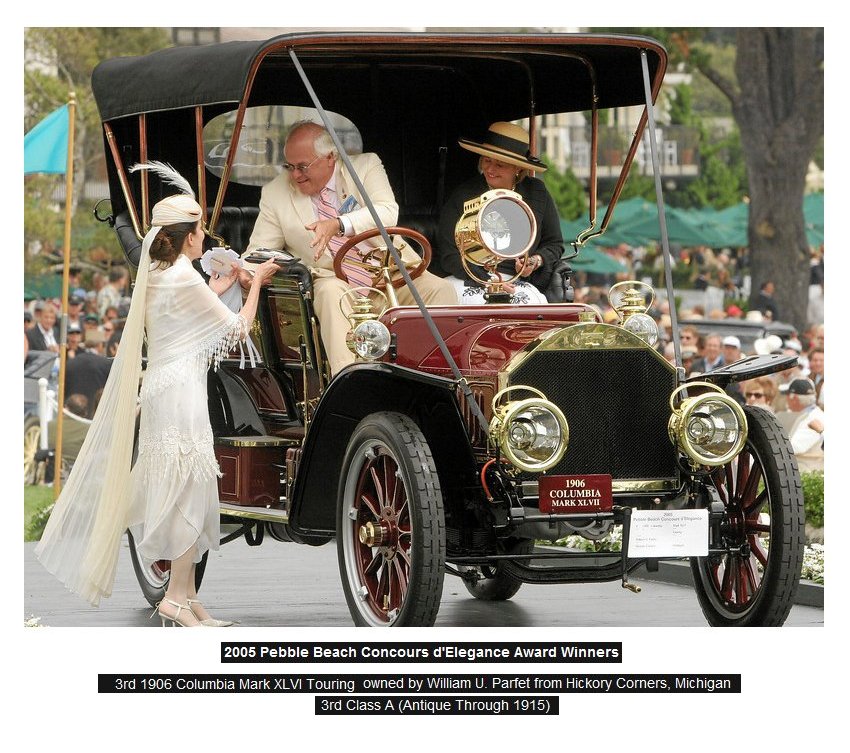 To see a comprehensive history of the Columbia cars,
with ads, catalogues, photos, articles and other materials
from the first models through the final production,
click
HERE
.