PROVIDENCE HORSELESS CARRIAGE RACE, 1896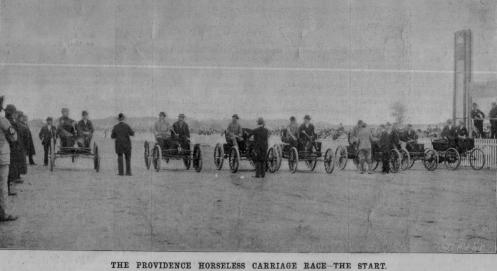 THE PROVIDENCE HORSELESS CARRIAGE RACE.
In the last issue of the SCIENTIFIC AMERICAN we gave an account of the first two heats run on the Narragansett Park track at Providence, R. I. Owing to a severe storm which swept New England during the race week, the plans of the managers were upset and only one more heat was run, the winners being Morris & Salom; the Riker carriage was only a few yards behind.
The fastest mile was made by the Riker electric carriage, the time being 2:13. The Morris & Salom electric carriage made the fastest five miles, covering the distance in 11:27.
The prize money was reduced on account of the five heats not being run. The first prize, of $900, was adjudged to the Riker Electric Motor Company, of Brooklyn, N. Y.; the second prize, of $450, to Morris & Salom, of Philadelphia, Pa. The contestants were anxious to run the other heats, in spite of the weather, but the management declined. The announcement of the success of the electric carriages created some surprise, as it has been thought lately that motors using some form of petroleum were best adapted for horseless carriage use, and the electric motor has been somewhat discounted. The electric carriage has made a record for speed, and the great ease of control and the absence of noise and odor will commend it to those who are anxious to purchase horseless carriages, but whether they are adapted for long runs or not still remain to be proved.
The entries were as follows (but in one case several carriages of the same make were entered under different names):

1. Duryea Motor Wagon Company, Springfield, Mass.,
2. Morris & Salom, Philadelphia, Pa.
3. W. Lee Couch, New Brighton, Pa.
4. Lewis Brown, Sawkill, N. Y.
5. J. Frank Duryea, Springfield, Mass.
6. George H. Hewitt, Springfield, Mass.
7. C. Mayhew & Son, Saratoga Springs, N. Y.
8. Riker Electric Motor Company, Brooklyn, N.Y.
9. P. F. Olds & Son, Lansing, Mich.
10. Fiske Warren & Company
Great interest was manifested in the races, which were witnessed by 5,000 spectators. Our engraving show the carriages lined up for the start.
"First American automobile race on a race track" auto racing