One of the most influential directors of opera in post-war Germany, August Everding was also an extremely competent administrator, holding positions at the Hamburg State Opera and the Bavarian State Opera in Munich, where he became General Intendant of all the Bavarian state theatres. In 1984 he was considered for the post of general manager of the Metropolitan Opera, but withdrew when he realised that in New York he would not exercise the complete artistic control to which he was accustomed at home.

At a time when German opera houses were often dominated by "conceptual" directors, Everding was an unashamed traditionalist, which did not mean that his productions were lacking in ideas: on the contrary, his work was always full of original touches, but they were invariably used to further the dramatic impact of an opera. Having begun his career in the spoken theatre, he took it for granted that the plot of a drama, however complicated, should be expounded with clarity, and his opera production were always models in this respect.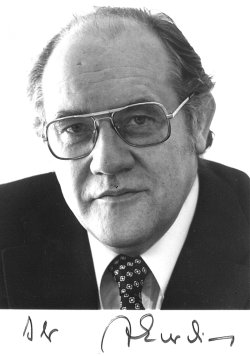 August Everding was born in Bottrop in 1928. Too young to take any active part in the war, he studied piano, philosophy, theology and dramaturgy at the universities of Bonn and Munich. He served his apprenticeship in the theatre under Hans Schweikat at the Munich Kammerspiele, of which he became artistic director in 1959, and manager in 1963. His first operatic production was of Verdi's La Traviata, which he directed for the Munich State Opera in 1967. Later that year he - metaphorically speaking - plunged in at the deep end, staging Tristan und Isolde in Vienna. This was a very successful attempt at a very difficult opera, and though he was still engaged at the Kammerspiele, offers came flooding in from the opera houses of Europe and America. In March 1968 Everding worked for the first time in Hamburg, directing the world premiere of Humphrey Searle's Hamlet (later to be seen at Covent Garden, though not in Everding's production). Later that year he returned to Munich for Carl Orff's Prometheus, which had been premiered some months earlier in Stuttgart. Then in 1969 he was invited to stage Der fliegende Hollander at Bayreuth, a signal honour as he was only the third director not belonging to the Wagner family to work at the festival during its entire history. With designs by Josef Swoboda, the production was much admired, and the same team returned to Bayreuth in 1974 to stage Tristan und Isolde. Meanwhile in autumn 1969 Everding went to San Francisco to direct La Traviata, and in June 1970 he made his London debut at Covent Garden with a production of Richard Strauss's Salome, in which the staging, Andrezej Majewski's marvellously colourful designs, the conducting of Georg Solti and the performance of Grace Bumbry in the title role all contributed to its huge success. Unfortunately Everding did not return to Covent Garden until 1979, when his staging of Mozart's Die Zauberflote was equally successful. The pantomime aspects of the opera were much in evidence, while the bogus Egyptian priests became believable 18th-century savants and men of letters. Everding began his enduring association with the Metropolitan Opera in 1971 with Tristan und Isolde, which was particularly admired for being the first production to use the full technical resources of the Lincoln Center house. He returned to New York in 1976 for Lohengrin; in 1974 for Boris Godunov, a production later seen in both Chicago and San Francisco; and in 1985 for Khovanshchina. Nineteen seventy-three, when he left the Kammerspiele, was a particularly busy year: Parsifal at the Paris Opera was followed by one of his greatest triumphs, Die Zauberflote at the Savonlinna Festival in Finland, which was repeated almost every year until 1993. At the Salzburg Festival that year he staged the world premiere of Orff's De temporum fine commoedia ("Drama of the end of time"). In the autumn of 1973 Everding went to Hamburg as Resident Director of the State Opera. The four years he spent there were among the most fruitful of his career. Having already staged Salome in Hamburg, Everding chose Strauss's Elektra as his first new production, surprising everyone by his fidelity to Hugo von Hofmannstal's stage directions in the text. This production was taken to Paris. Next he tackled Khovanshchina, 10 years before he staged Mussorgsky's epic in New York. After revivals of La Traviata and Tosca, in 1975 he directed Verdi's Otello, with Placido Domingo singing the title role for the first time. That year a disastrous fire (started by a dismissed stagehand) destroyed sets and costumes for 54 of the 59 productions in store. During his last two seasons in Hamburg, Everding staged a superb Parsifal, with brilliant Art Nouveau-style decors by Ernst Fuchs, which remains my favourite of all his productions. This was followed by Lohengrin and Der Rosenkavalier. After an interlude in Salzburg for a baroque piece by Stefano Landi, Il Sant'Alessio, Everding took over as Intendant of the Bavarian Opera in Munich. A new Lohengrin was followed by Die Zauberflote (the Covent Garden version was a recreation of this) and a curiosity, Das Labyrinth by Peter von Winter, whose libretto, also by Emanuel Schikaneder, is a sequel to that of Die Zauberflote. During his years in Munich Everding directed Die Meistersinger with Dietrich Fischer-Dieskau as Hans Sachs; Mozart's Die Entfuhrung aus dem Serail and Mitridate, re di Ponto; Honegger's Jeanne d'Arc au Bucher; another new Tristan; and Orff's Die Bernauerin, staged in the courtyard of the Alter Hof in July 1985 to celebrate the composer's 90th birthday. In 1983 Everding was appointed General Director of the Munich state theatres, which include the Nationaltheater, the Theater am Gartnerplaz and the Staatsschauspiel. Certain of Everding's detractors saw this as a polite way of pushing him upstairs. Whatever the truth, during the last decade of his career he worked a great deal elsewhere in Berlin, Cologne, Dusseldorf and Zurich, as well as Chicago, Sydney, Buenos Aires and Warsaw. Invited by Robert Satanowski, the Music Director of the Theatr Wielki, Warsaw, to stage Wagner's Der Ring des Nibelungen, with a mixed cast of German, American and Polish singers, Everding together with Satanowski achieved a magnificent result in only two years, 1988 and 1989. No complete Ring cycle had ever been staged in Warsaw before; the orchestra, the public and many of the singers were totally unacquainted with the work, but Everding's dramatic instinct and his ability to clarify even Wagner's most abstruse ideas triumphed. After his success in Warsaw, in 1992 Everding began to build up another Ring cycle, this time in Chicago, where the Ring had last been performed in 1930. Spread over four seasons, the production took longer than in Warsaw to complete, but in the spring of 1996 three cycles, designed by John Conklin and conducted by Zubin Mehta, were performed and rapturously received by the audience. Everding's job was when he died was as artistic director for the German display in the Millennium World Fair, to be held in Hanover in 2000.

August Everding, theatre and opera director and administrator: born Bottrop, Germany 31 October 1928; married (four sons); died Munich 27 January 1999.
Copyright 1999 Newspaper Publishing PLC
Provided by ProQuest Information and Learning Company. All rights Reserved.