Ray Harroun was born on January 12, 1879 in Spartansburg, Pennsylvania. He got his elementary education there, but could not concentrate on classroom work. He built his first car in 1905, and would race anyone who would challenge him.

In 1910, Harroun accepted an offer from Howard C. Marmon to design and build a racing car to be driven by him in the first big event at the new speedway at Indianapolis.

Conventional cars at the time were constructed with two bucket-type seats. Harroun's car had a streamlined body, with only one seat for the driver. Since he would not have a riding mechanic to watch for overtaking vehicles, Harroun constructed a bracket to support a rear view mirror - perhaps, the first. Consequently, the automobile industry started equipping their cars with rear view mirrors.

The starting positions were determined by the order of entry. Ray Harroun was on the outside of row seven in the 28th starting position.

At 10 am, Tuesday May 30, 1911, the Stoddard-Dayton pace car pulled off onto the pit apron, Fred Wagner the official starter waved the green flag, the starting bomb detonated, and the race was on. John Aitken reached the southwest turn first, followed by Ralph DePalma. By the fourth lap Spencer Wishart nosed into the lead. By the eighth lap the leaders held their position, but Ray Harroun moved his yellow Marmon Wasp up to seventh. He did so not by a reckless charge, but by knowing his car so well, he could push it to the ragged edge and still be able to conserve his tires, engine and fuel.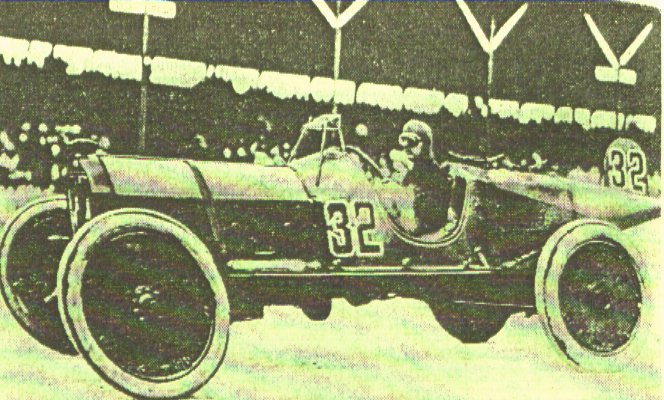 As the race progressed, the lead changed several times, as the leaders see-sawed back and forth. Harroun knew how fast he could go, how fast he had to drive to win, and he kept that pace. There were many drivers that would charge past Harroun, especially Ralph Mulford who was driving a more powerful Lozier. While Mulford would retake the lead by charging past Harroun, he lost time by frequent tire changes.
After 6 hours, 42 minutes, 8 seconds and averaging 74.59 miles per hour; Harroun took America's most historic checkered flag. He finished about 5/8 mile ahead of Mulford.
The 1911 Indianapolis "500" purse amounted to $27,550, of which Harroun earned $14,000. The Marmon Company let Harroun keep it all, plus a bonus. On the day the award was given, Ray Harroun announced his retirement from driving but not from the automobile business. Harroun was retained as a consulting engineer, for several years. He designed and developed the Harroun carburetor for the 1913 Marmon "48".
Harroun designed and built three Maxwell racing cars for the 1914 and 1915 seasons. The success of the Harroun-Maxwell cars was self-evident by the number of prominent races won by drivers Willie Carlson, Teddy Tetzlaff and Hall of Famer Eddie Rickenbacker.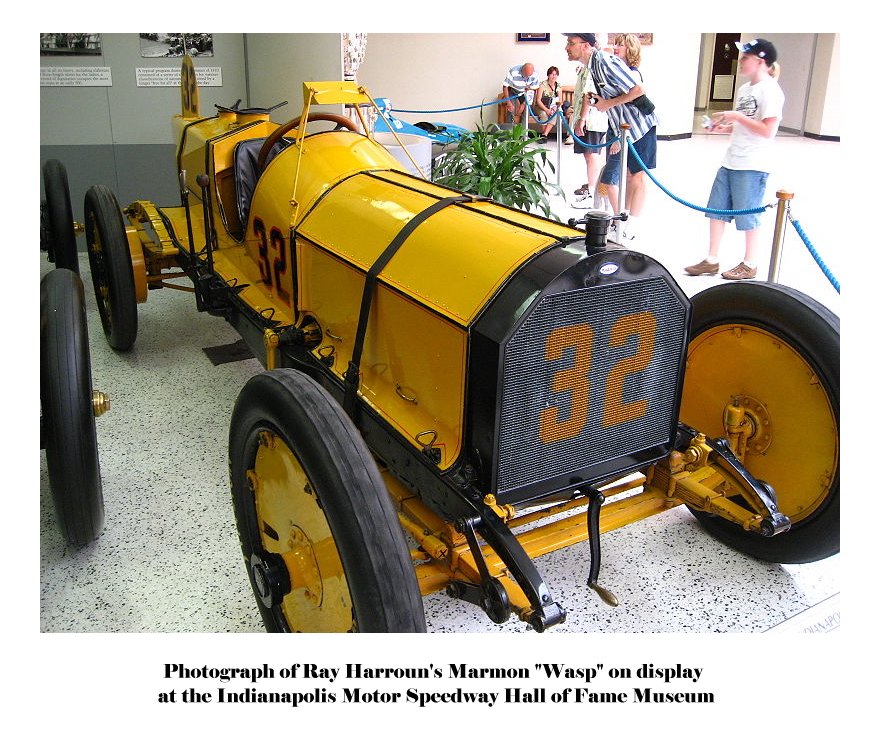 During 1916, Harroun rented an office and drafting room space, and proceeded to design an inexpensive, but reliable roadster. In early 1917 Harroun leased a small plant in Wayne, Michigan, formerly used by a buggy and carriage manufacturer. Approximately 500 roadsters were built in this plant during 1917.
At the onset of World War I, Harroun entered into a contract with the United States Government for the production of military equipment and munitions.
Ray Harroun stayed active the remainder of his life in the production and sales of after-market accessories. Harroun died on January 19, 1968 at Anderson, Indiana. He left a void in the industry that perhaps will never be filled. He pioneered a tradition, which is thriving today, and which no doubt will continue through the 21st century, providing Americans with the greatest sporting "spectacle" in the world.
By Michael J. Kollins [Text only]