On the Texas-Mexico border in a giant loop of the Rio Grande called the Big Bend, this huge national park spans 1,100 square miles of thorny, sun-baked desert - awesome, shadowy canyons - cool, forested highlands - and stony mountain towers looming nearly a mile and a half high. Refer to the state travel guide for a summary of Big Bend's abundant points of interest, its astonishing variety of wildlife, and its visitor facilities.
This was the first national park created in Texas and was carved out of the southern section of Brewster County. No place could have captured the eclectic spirit of the state more vividly. Canyons, mountain ranges, deserts, and the great Rio Grande share more than 800,000 untamed acres in Big Bend National Park. The Chihuahuan Desert creates the setting for the park. This desert is the wettest and highest in North America. It rises to elevation of 6,500 feet in Mexico and 5,000 feet in the United States and receives between 8 and 12 inches of rain per year. The Chisos Mountains serve as the centerpiece. And the "big bend" of the Rio Grande sets the mood as it swings southward through Santa Elena, Mariscal, and Boquillas canyons.
No other national park has the number or variety of cacti seen at Big Bend. About 70 different kinds have been recorded. And no other national park hosts more bird species--at last count, they totaled more than 400. Each spring, as if to remind Texans that preserving Big Bend was the right thing to do, the Colima warblers return. The little grayish birds with white breasts and yellow rumps breed only in the Chisos Mountains of Big Bend---and nowhere else in the country.
The Mountain Trail between Big Bend and Presidio follows one of Texas' most spectacular highways, FM 170. Locally known as El Camino del Rio ("the river road"), it parallels an old Spanish Trail used to transport silver and other treasures more than 200 years ago. During the days of Mexican banditos, army mule trains packed supplies over the same Trail. Later, during Prohibition, the still remote Trail was used by smugglers.
Many legends of buried treasure are told about this road, and it's been confirmed that in 1876 a pioneer freighter, August Santleban, transported $350,000 in silver and 40,000 pounds of copper through this wild country. The route he followed was the Chihuahua Trail, which stretched from Chihuahua, Mexico, into Texas at Presidio, then through Fort Davis and San Antonio to the Gulf Coast port of Indianola.
Four miles west of Big Bend, on El Camino del Rio, is the ghost town of Terlingua - once a boisterous mining town of 2,000. Abandoned for decades, a small trading post has reopened in the old company store, and operators of river-rafting expeditions have made their headquarters here.

The largest ruin still visible is not, as it may appear, a hotel with arched porch. Rather, it was the winter home of the mine's owner. Legend says the owner's Easter bride spent but one night in the house that was built for her and then departed for a more civilized locality.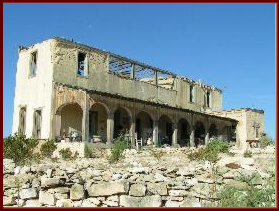 About 1906 the mine's owner found that his new Columbia automobile was unsuited to the primitive roads here, and he had it sealed in a double-wall adobe garage. Discovered in the 1940s, it is now on display at the Central Texas Museum of Automotive History in Bastrop.
-----------------------------------------------------


After seeing the article above, naturally I tried to locate the Columbia car. Inquiries to the museum yeilded no information, so I wrote to a friend in Texas - the man whose Columbia we rode in when we visited him in 2007.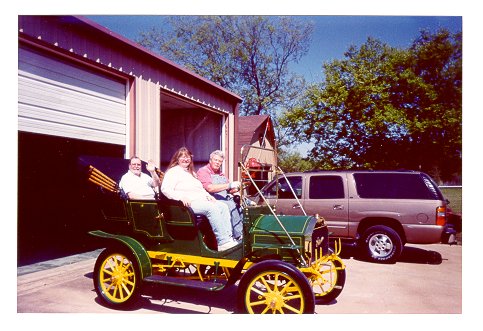 Here is his reply to my e-mail.

Hello Bruce,


Good to hear from you and to know that you are still pursuing "all things Columbia". I haven't visited your web site recently but will catch up with it in the near future.
Here's what I have heard about this car. It's kind of a legend in the hobby down here. The owner hailed from the north east and bought 2 identical 1904 Columbias, one to use in his home area, and one he sent to the Big Bend area of Texas, where he had business interests, for his use on visits there. As your quote from Texas Monthly says, he had it sealed in an adobe building which, in fact hermetically sealed it from the elements until it was found in the 50's or 60's by a crew demolishing the building the contents of which were, by then, unknown. The car had almost no miles and was in great condition. Whoever was in charge of the demolition contacted a well known car collector, Liston Zander, who lived in San Antonio and, I believe, who acquired it for little or no outlay. They just wanted it removed so they could get on with their project. What a find! The car required no restoration.
I saw the car in a San Antonio museum in the early 70's. My recollection is that it was a rear entrance tonneau with wicker baskets on each side. It was a huge car - almost twice the size of mine and just a large version of the 1904 2 cylinder Columbia rear entrance tonneau. The museum was on the San Antonio "Hemisfair" grounds which was a sort of World's Fair and exhibition center that was built in the 60's.
I understand that the car is now owned by Warren Kraft, a prolific collector on Long Island. He also owns a 1904 2 cylinder Columbia, that I found when researching my car for its restoration, on Long Island before Kraft owned it.
By the way, I sold my Columbia to man in San Antonio about 2 years ago. I much regret doing that but thereby hangs another tale!
Kindest regards to you and Kathy,

Your Texas Columbia Friend

--------

A brief internet search turned up an e-address for Mr. Kraft, so I wrote to him and this is his reply.

I do not know where the Columbia you seek is today. I saw it last a few
years ago. Prior to that it was owned by the Magee Brothers in
Middlefield, CT. I recall it's discovery in Texas many years ago by a
famous collector.

My Columbia is now owned by a collector in England.

Good luck on your search.

Warren Kraft


------------