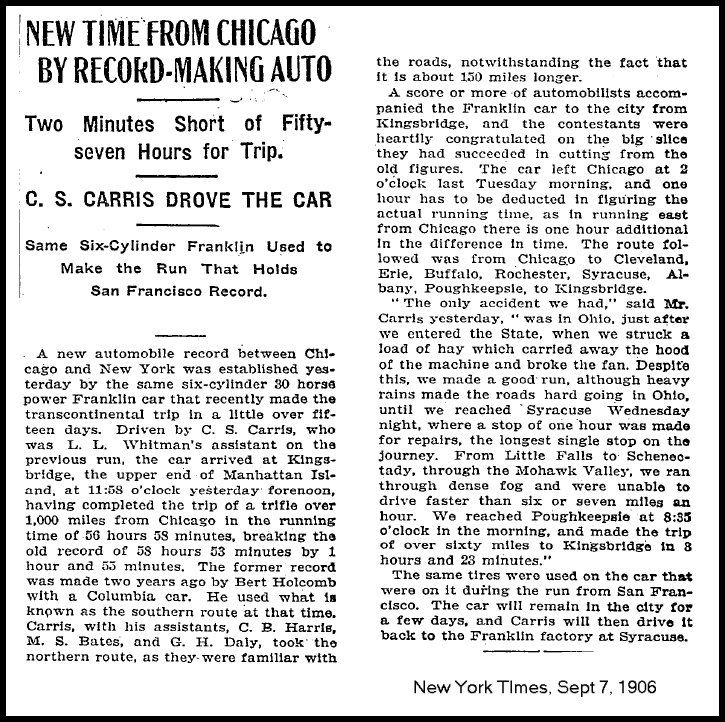 Note: The writer of the article (above) transposed the minutes-digits,
and thus mis-calculates the difference in the total elapsed time!
The Columbia's record in 1904 was 58 hrs 35 min (not 58:53),
thus shaving 1 hr 37 min instead of 1 hr 55 min off the old time!
However, this incorrect time must have appeared someplace else,
because it was quoted in the following items both from the same issue
of a magazine dated (amazingly) one day before the news article above...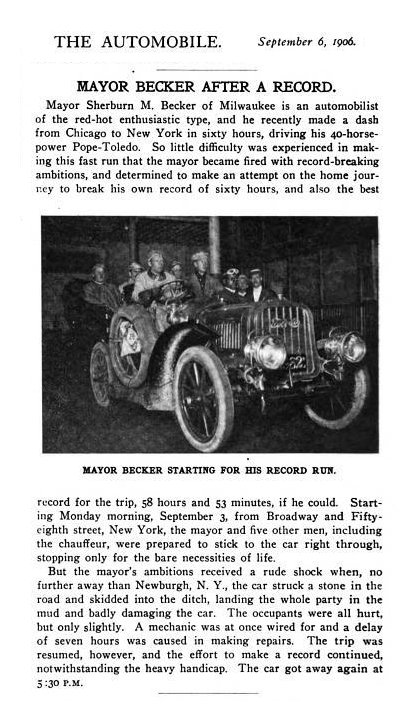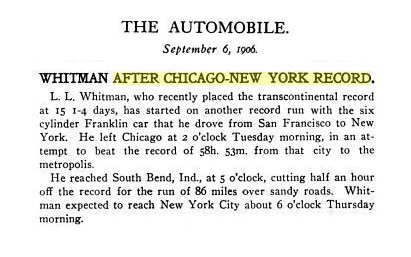 The
New York Times
article of October 7, 1904, which is shown on the
previous page, also had a mistaken time. It stated the new record as
58 hrs 45 min, but I have found no official source with that number.
Every printed item from Electric Vehicle Company uses 58 hrs 35 min.
One other note... The first "new" record, which was set in mid-1904 by
another company, dropped the original 1903 time by only 3 hrs 14 min.
Just a few weeks later, the Columbia bested that by 14 hrs 11 min,
to re-make the standard, which then held for practically two years!
(This assumes that the running times are correct as known, though
two different Columbia ads on the previous page give other totals.
Perhaps those were just arithmetic errors by the copywriters.)
Next are news items from those months in between the two
Columbia record runs. Note that the
New York Times
has an
incorrect listing (again) of the original run - reversing the
hour-numbers this time. Where they say "sixty-seven,"
it should read "seventy six."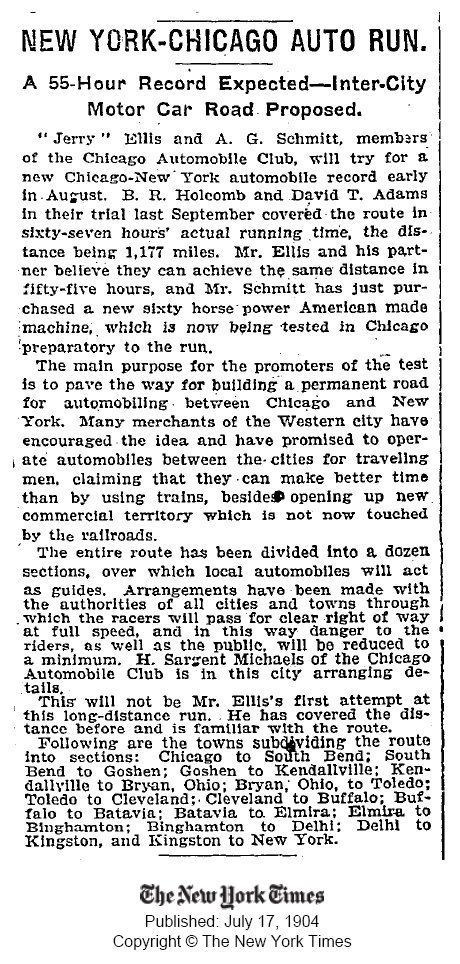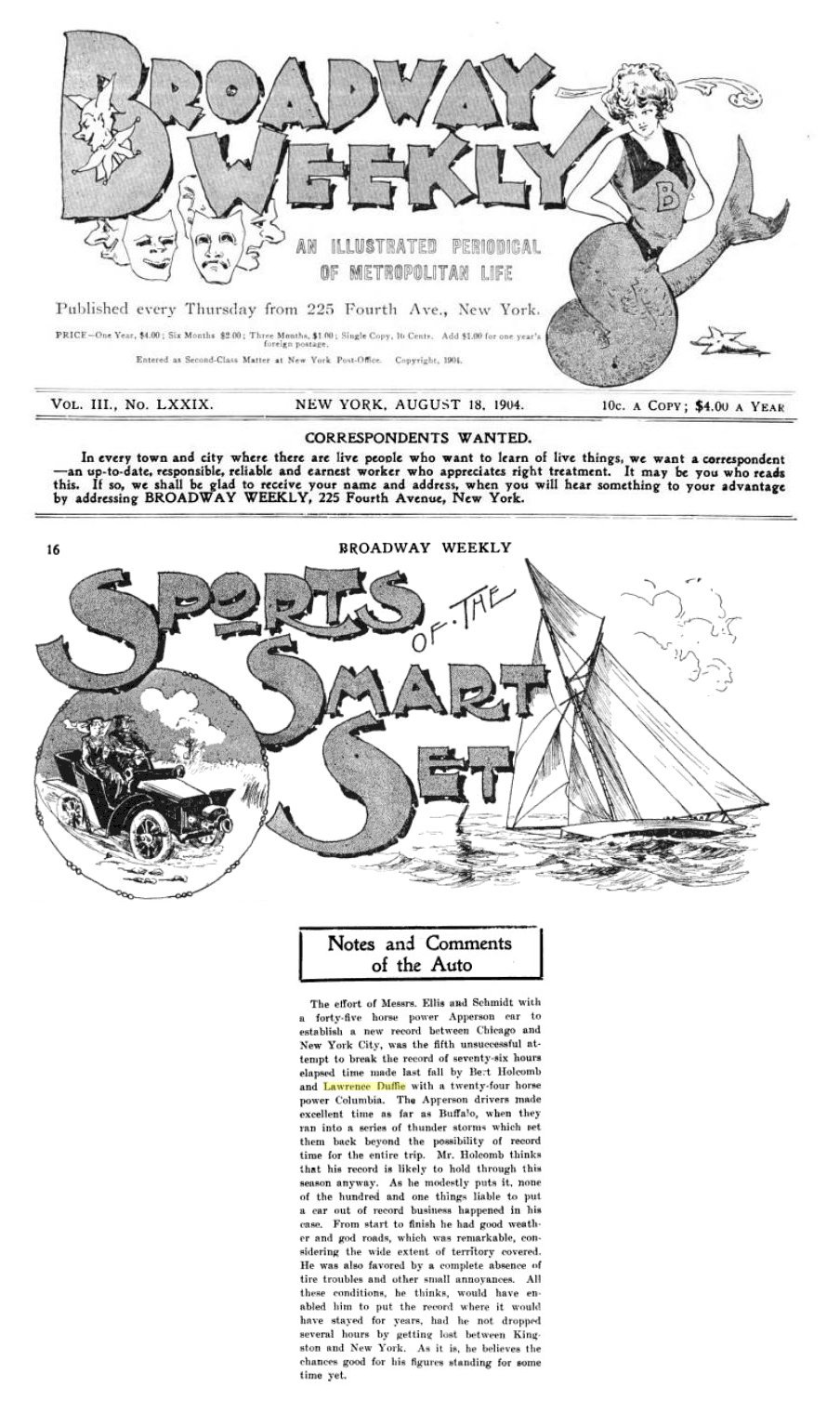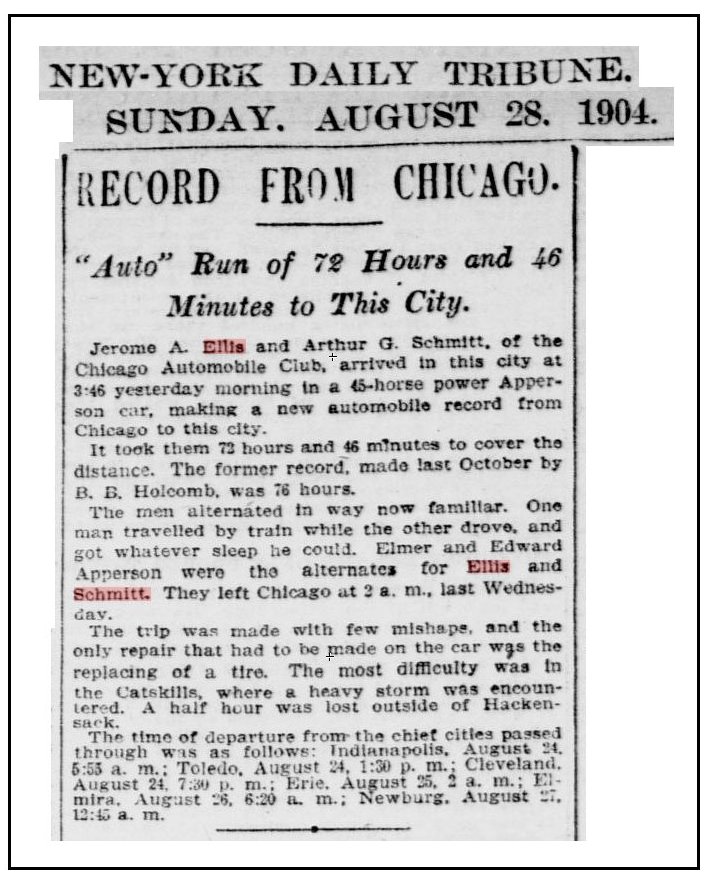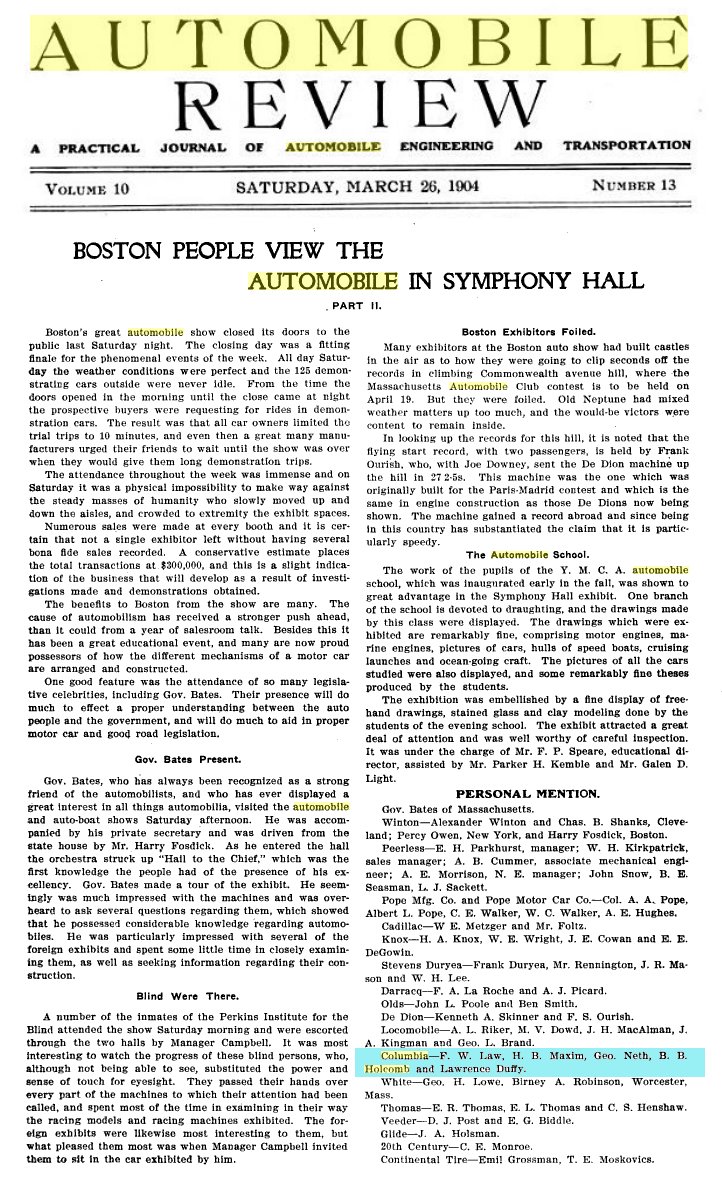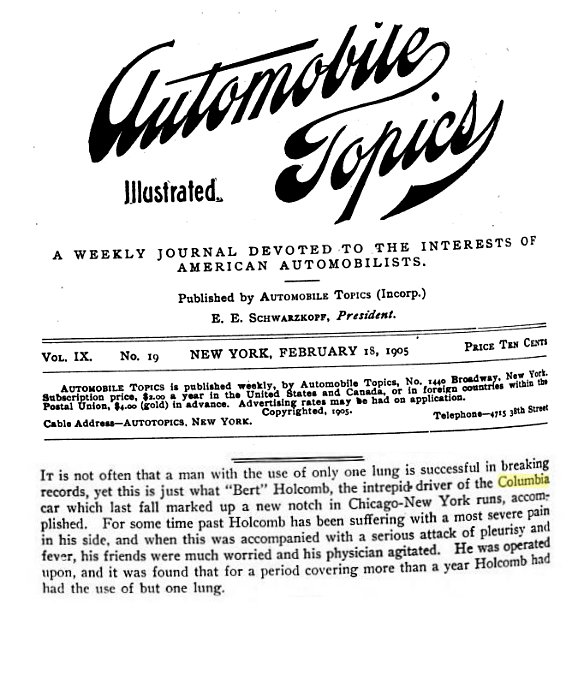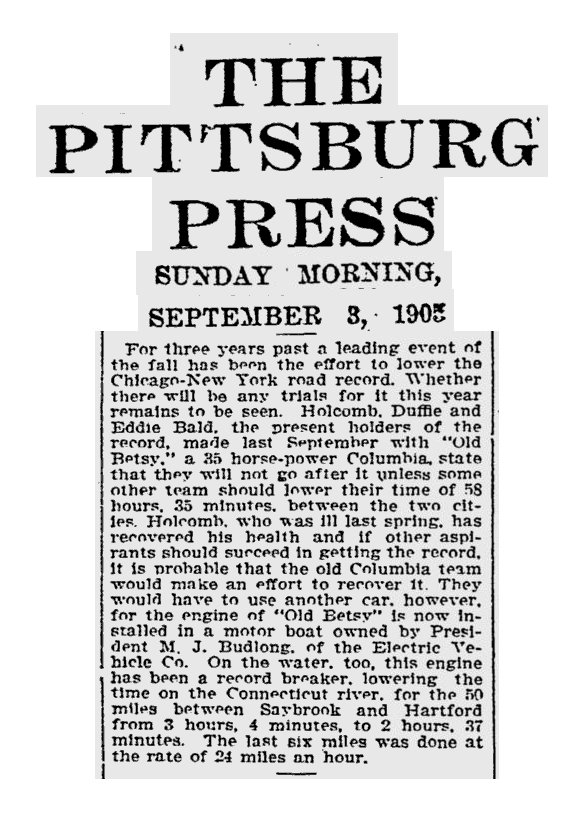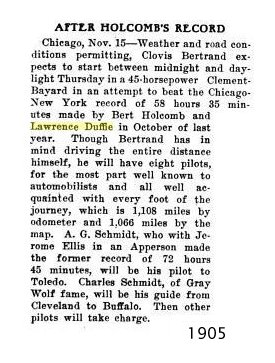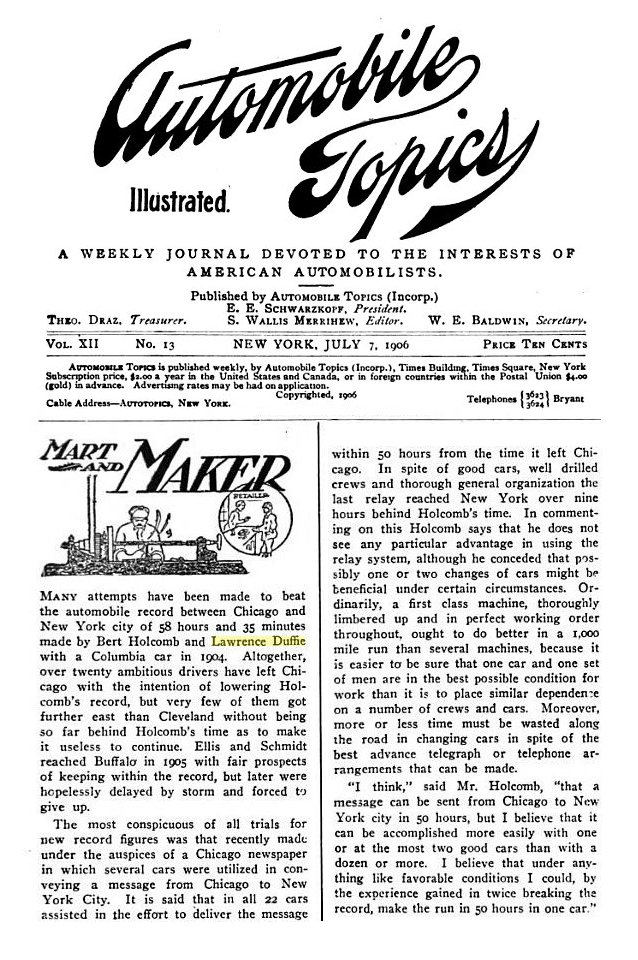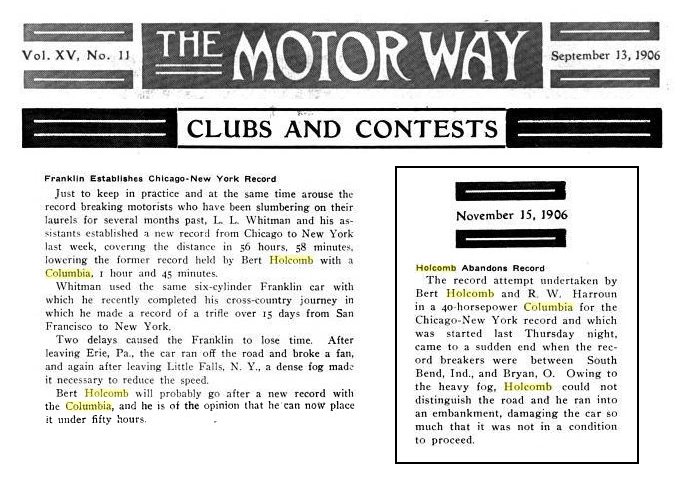 Besides preparing for the next record-breaking
run from Chicago to New York,
Holcomb apparently also had aspirations
for a full cross-country trip...

Also between the two Columbia record runs,
the following item appeared in
Motor Age
,
No. 4 of their series of "Family Trees."
Note that it includes a photo of the
1903 record car at the upper-right!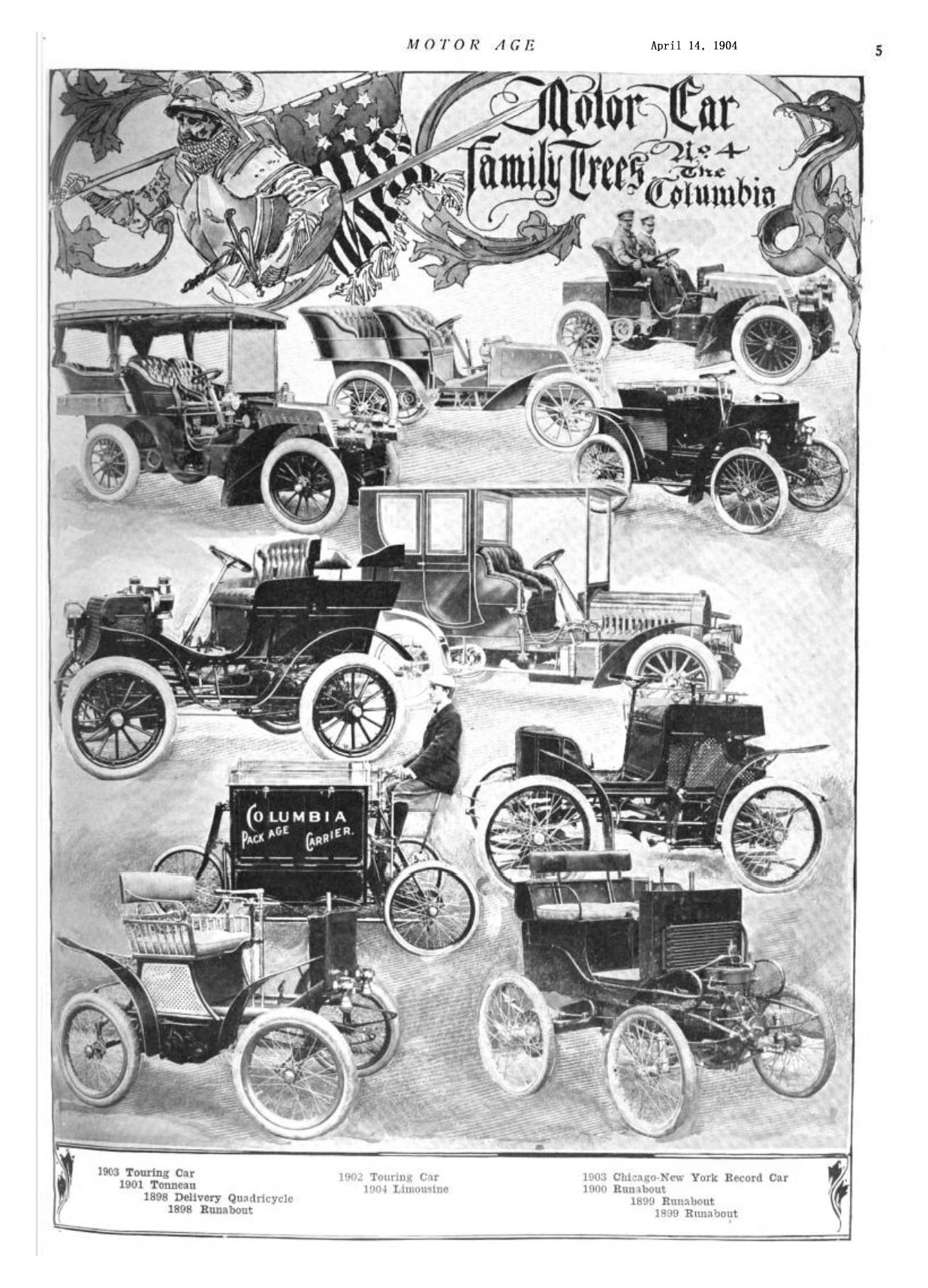 All of these vehicles will be shown and detailed
later in this website presentation,
along with pages devoted to the entire life
of the Hartford-made Columbia automobiles,
from the very beginning through the
final production year of 1913.
On the
next page
, accounts and photos of the
original Chicago-to-New York run of 1903,
which established the record,
plus the Gold Medal they won in the
New York-to-Pittsburg (sic) Endurance Run
which followed immediately.