Raymond Leppard



Born: August 1, 1927 - London, England

The eminent English conductor, Raymond (John) Leppard, was born in London and grew up in Bath. He studied harpsichord and viola at Trinity College, Cambridge (M.A., 1952), where he also was active as a choral conductor and served as music director of the Cambridge Philharmonic Society.

In 1952 Raymond Leppard made his London debut and then conducted his own Leppard Ensemble. He became closely associated with the Goldbrough Orchestra, which became the English Chamber Orchestra in 1960. He also gave recitals as harpsichordist, and was a fellow of Trinity College and a lecturer on music at his alma mater (1958-1968). His interest in early music prompted him to prepare several realisations of scores from the period. While his editions provoked controversy, they had great value in introducing early operatic masterpieces to the general public. His first realisation, Monteverdi's

L'incoronazione di Poppea

, was presented at the Glyndebourne Festival under his direction in 1962. In the following years he subsequently prepared more operas by Monteverdi, as well as operas by Cavalli. During this period, he made appearances as a guest conductor with leading European opera houses and festivals. In November 1969 he made his USA debut conducting the Westminster Choir and New York Philharmonic, at which occasion he also appeared as soloist in the Haydn's

D major Harpsichord Concerto

. In 1973 he became principal conductor of the BBC Northern Symphony Orchestra in Manchester, he position he retained until 1980.

Raymond Leppard, one of the most respected international conductors of his time, has appeared with nearly all of the world's leading orchestras in his four decades on the podium. An exceptional, versatile musician who has garnered praise internationally for his orchestral and operatic performances, his talents are extensive: a prolific recording artist, with 200 recordings to his credit; an author: he has published two books; a composer: his realisations of Cavalli and Monteverdi are legendary, and he has composed a number of film scores.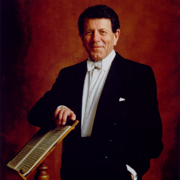 Music Director of the Indianapolis Symphony Orchestra for the last decade, Raymond Leppard celebrates his thirteenth season with the Symphony. Guest engagements last season included the Melbourne Symphony Orchestra, a major tour of European capital cities with the Indianapolis Symphony Orchestra, the Camerata Academica Salzburg, and L'Orchestre de la Suisse Romande.

In February 1997 Raymond Leppard recorded two CD's for the Decca label: a disc of all-American music of the 20th century and an all-Mozart disc with pianist Pascal Rogé. Previous Indianapolis recordings for Koss Classics include

Dream Children

featuring Elgar's youth-inspired music; an all-Schumann disc, Vaughan Williams'

Antarctica Symphony

, an all-Tchaikovsky disc and an all-Beethoven disc. Raymond Leppard has recently made two recordings with the Royal Philharmonic Orchestra: Beethoven's

Choral Symphony

and an all-Franck disc. BBC Radio Classics have released Leppard's Mahler

Das Lied von der Erde

with Dame Janet Baker and the BBC Northern Symphony Orchestra, with additional recordings of Debussy, Roussel, Fauré and Tippett.

Raymond Leppard has an impressive list of conducting credits. He has appeared with the New York Philharmonic on seven occasions, toured with the Chicago Symphony and Detroit Symphony and has conducted many other major orchestras including Boston Symphony, the Philadelphia Orchestra, the Los Angeles Philharmonic Orchestra, Pittsburgh Symphony, the Israel Philharmonic, the BBC Symphony (including the Last Night of the Proms), and in all European capital cities and in Japan.

In the great opera houses of the world highlights include Britten's

Billy Budd

at the Metropolitan and San Francisco Operas, Alceste and

Alcina

at the New York City Opera, the world premiere of Nicholas Maw's

Rising of the Moon

at Glyndebourne Opera, where he has had a long association, and performances at the Royal Opera House, Covent Garden and in Paris, Hamburg, Santa Fe, Stockholm and Geneva.

Raymond Leppard's recordings have earned him such international prizes as the Deutsche Schallplattenpreis, a Grammy Award, a Grand Pro/Am Music Prix du Disque and the Edison Prize. He has composed a number of film scores including the music for

Lord of the Flies

,

Laughter in the Dark

and

Hotel New Hampshire

. His second book,

Raymond Leppard on Music: An Anthology of Critical and Personal Writings

, was published by Resources in 1993.

Raymond Leppard has been honoured by The Queen with the CBE, and has received honorary degrees from Purdue University (1992), the University of Indianapolis (1991), and Butler University (1994). In 1973 the Republic of Italy conferred upon him the title of Commendatore della Republica Italiana for services to Italian music.